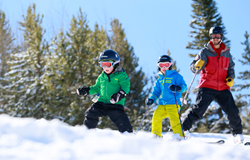 Ski Granby Ranch is full of special events for the family this winter, starting with the holiday season and continuing through spring.
GRANBY, Colo. (PRWEB) November 26, 2014
Ski Granby Ranch, located 90 miles west of Denver and 20 miles west of Winter Park, announced that Dec. 11 will be opening day for the 2014-15 ski season – a season that holds a lot of events and excitement.
To kick off the start of the skiing and riding season, Granby Ranch is hosting a "Carve Away Hunger" event in conjunction with the Mountain Family Center, a local nonprofit dedicated to helping those in need. On Dec. 11, 12 and 14, snow enthusiasts can bring food items for the "Food Totes Program" and receive a discount lift ticket ($45/adult and $29/junior). Those who bring a full bag of non-perishable food on Dec. 13 receive a free lift ticket.
"We know that we're fortunate to live and play where we do," says Wenda Huseman, V.P of Marketing and Sales at Granby Ranch. "This is our way of giving back not only to the community, but also to those people who love to ski and ride here at Ski Granby Ranch. It's a win-win for everyone."
Granby Ranch will begin offering the only night skiing in Grand County. Starting December 26 through December 30 for the holiday season and then continuing January 2 through March 28, night skiing will be offered on Fridays and Saturdays from 5 p.m. - 8 p.m. Plus extra night skiing on January 18 and February 15. Night skiing tickets are $14 per night and are complimentary for season pass holders.
Ski Granby Ranch is full of special events for the family this winter, starting with the holiday season and continuing through spring. Here are just a few of the events taking place during the 2014-15 ski season:

Winter Wonderland: December 24– January 4. Hit the slopes with Santa on Dec. 24, then on Christmas Day ski down for a special holiday brunch in the Granby Ranch Grill. From Dec. 26 -29, Families can experience pure winter magic on a wagon ride and warm up with s'mores around the fire pit from 4:00 p.m. – 4:30 p.m. daily. Ring in 2015 with the Granby Ranch New Year's Eve Party, Torchlight Parade and fireworks display on December 31. The festivities begin with a glow-stick walking parade that's open to all followed by a special torchlight procession. The New Year will be greeted a fireworks display and party.
Fireside Acoustics: Saturdays, January 3 – February 28. Enjoy après specials along with live music by the fire at Granby Ranch Grill from 2 p.m. – 5 p.m.
S'mores Nights: Friday nights from January 9-March 6. Receive one free s'mores kit with each paid night ski lift ticket.
#granbyglow: Saturday nights from January 10-March 7. Receive glow sticks with each paid night ski lift ticket and Instagram and tweet your favorite pictures for a chance to win free lift tickets.
Family Movie Nights: January 10, January 24, February 7 and 21, March 7 and 21. Pull up a chair or bring a blanket to the children's center at 6:30 p.m. and snuggle up while enjoying a free movie and popcorn. Parents can enjoy dinner at the Grill or grab a pizza for the whole family.
Insane Winter Blast: February 14. This family friendly festival includes music, a photo booth and activities for the entire family followed by night skiing.
Rock the Ranch: March and April. New this year, celebrate spring with live music on the patio, outdoor BBQs, Night Skiing Scavenger Hunts, the Beach Bash & Pond Skim and the Easter celebration.
Learn more about Granby Ranch and plan a visit at http://www.granbyranch.com or take advantage of a lodging package by calling 888.850.4615.
About Granby Ranch (http://www.granbyranch.com)
Located just 90 minutes from Denver and just 15 minutes from Winter Park and the western entrance to Rocky Mountain National Park, Granby Ranch is not a typical mountain getaway. It's a peaceful mountain retreat that allows people to be closer to the mountains. At Granby Ranch it's all about Colorado's great outdoors. After connecting with nature, guests and residents connect with one another by gathering at the Grill and the fire pit for drinks or s'mores. Granby Ranch delivers Colorado skiing for less than other mountain resorts and strongly appeals to families and empty nesters who can stay in a privately owned slope-side condo, townhome, cabin or luxury home rental on their Colorado mountain getaway. Year-round activities range from fishing and golfing to biking and skiing.