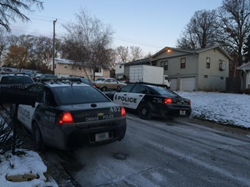 Police response to a home alarm is often GREATER than 20 minutes. It takes about 10 seconds for an intruder to kick in a door and be inside of your home.
Nashville, TN (PRWEB) November 25, 2014
You pass the Stove Top Stuffing, mashed potatoes and gravy to the right of the table, watch a few NFL football games, hug your loved ones, and count your blessings. Then you hear a thud at the door and (10 seconds later) three men are in your home robbing you and your family. Unfortunately, the holidays are a time when thieves look for easy targets.
Six Omaha roommates learned this lesson last week when they became victims of a home invasion. On November 18, three men kicked in the front door of an Omaha, Nebraska home, tied up six roommates, and stole a van and possibly guns before making their getaway and fleeing from the scene.
According to the FBI, approximately 3.7 million household robberies occur each year in the United States, and nearly one-third (28%) of all household burglaries involve a resident who is home at the time. Nearly 72,000 of these home invasions resulted in some form of assault, rape, or violent victimization. Being tied up is a common form of victimization for incoming thieves. One may assume that having more than one person in the home would prevent a home invasion, but that is not the case.
Security expert and Armor Concepts CEO Alan Young says that homeowners can take some simple steps to keep themselves safe when at home during the holidays with proper home security tips: "By simply locking doors and windows and making sure that doors cannot be kicked-in, homeowners will turn away most intruders. Thieves are looking for easy targets. Make them work and they are likely to go elsewhere".
Young referenced EZ Armor, a $69 door security product sold through Lowe's and other retailers, as an inexpensive way to make sure intruders can't break down doors.
Home alarm systems are often the first place frightened homeowners look to protect themselves, but Young warns that homeowners should understand the following differences about home alarms and door security: "1). Home alarms do not stop anyone from coming into your home. They simply tell the homeowner that someone is inside. 2). Homeowners almost never arm alarms until they leave their home or go to bed. 3). Police response to a home alarm is often greater than 20 minutes. It takes about 10 seconds for an intruder to kick in a door and be inside of your home. "
Armor Concepts is a Nashville, Tennessee based company that specializes in the manufacture and distribution of security solutions. Founded in 2004, the Company's EZ Armor, Door Jamb Armor and FIX-A-JAMB products are sold nationally through Lowe's, Menards, ACE and Do-It-Best hardware, among other retailers. The Company has been featured nationally on Bloomberg, Fox News, the CBS Early Show, NBC's TODAY show, The OMG Insider and countless local television and radio news broadcasts. For more information about Armor Concepts, visit armorconcepts.com or email them at pr(at)armorconcepts(dot)com.