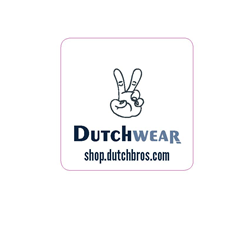 Dutchwear - Look good, feel good, do good.
GRANTS PASS, Ore. (PRWEB) November 24, 2014
The Dutch Bros. Coffee experience is multisensory. Good coffee, cool people, great customer service, and music make for an experience people come back for day-after-day. Early on, Dutch Bros. made the decision to have baristas wear "Dutch" clothing in lieu of a uniform and started an internal shirt of the month program for employees.
It wasn't long before customers were asking where they could get Dutch Bros. coffee for home, or a shirt, hat or jacket for themselves.
Dutchwear is now the exclusive provider of branded apparel and mail order Dutch Bros. coffee. It holds the same core values that customers experience in the shops daily –service, speed and quality.
From the new single serve DB Cup for use in Keurig-style brewers to coffee accessories, such as mugs and storage canisters, gift cards and gift boxes, Dutchwear is perfect for a special occasion or the holidays. Visit Dutchwear to find Black Friday and Cyber Monday deals.
"We love that we can fulfill customers requests for beans, DB Single-Serve Cups and clothing," said Dutch Bros. Coffee Co-founder, Travis Boersma. "We are happy to make Dutch Bros. Coffee and experience available to our customers on-line."
Dutch Bros. Coffee continues to grow and has 233 stores in seven states. With over 20 years in the business, Dutch Bros. is happy to thank loyal fans, dubbed the "Dutch Mafia" for its continued growth and success.
###
About Dutch Bros. Coffee
Dutch Bros. Coffee is the country's largest privately held, drive-through coffee company, with over 230 locations and over 2,500 employees in seven states.
Serving specialty coffee drinks, smoothies, freezes, teas and a private-label Dutch Bros. Blue Rebel™ energy drink, Dutch Bros. is known for a special focus on its communities and customers.
Dutch Bros. Coffee was ranked by J.D. Power and Associates as highest in customer satisfaction compared to other coffee companies in its 2012 and 2013 Specialty Coffee Retailer Satisfaction Reports.
Dutch Bros. Coffee gives back at least 1% of gross sales to the communities it serves, donation over $1 million every year to nonprofit organizations and causes, in an effort to live the philosophy of "Love all, Serve all."
Dutch Bros. Coffee is headquartered in Grants Pass, Ore., and was founded in 1992 by dairy farmer brothers of Dutch descent. To learn more about Dutch Bros., visit http://www.dutchbros.com.