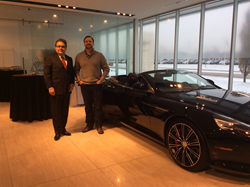 Gender equality is, first and foremost, a human right. Women are entitled to live in dignity and in freedom from want and from fear
TROY, MICHIGAN (PRWEB) November 26, 2014
On November 19th the Men of the Metro Detroit Chapter of the US National Committee for UN Women hosted a wine tasting benefit at Aston Martin of Troy. The event was in alignment with initiatives such as White Ribbon Day and UN Women's #He For She campaign which was recently launched by Emma Watson.
The event's aim was to encourage men to step forward in solidarity for gender equality and to stop violence against women. Lori Blaker CEO/President of TTi Global and Chapter President addressed the crowd, "Gender equality is, first and foremost, a human right. Women are entitled to live in dignity and in freedom from want and from fear. Yet discrimination against women and girls - including gender-based violence, economic discrimination, reproductive health inequities, and harmful traditional practices - remains the most pervasive and persistent form of inequality. We support UN Women because they are at the forefront of advocating for women by promoting legal and policy reforms."
Kevin Dever, Vice President of the Metro Detroit Chapter and Director of Marketing for TTi Global explains, "Both campaigns are about recognizing the positive role that men play in preventing violence against women. It fosters and encourages male leadership in the prevention of violence against women, based on the understanding that most men are not violent. The campaigns provide a means for men to speak out against violence against women, and to safely and effectively challenge the attitudes and behaviors of a minority of men who use or condone violence against women."
Richard Kollins chair of the evening event stated, "We are hosting this event to raise awareness for these campaigns. The violence perpetrated by men against women must stop and it is up to men to stop it. The victims are not merely statistics; they are wives, sisters, mothers, daughters and friends. Good men cannot and will not sit on the sidelines while those they love are at risk of harm."
The event was sponsored by Cellar Door of Auburn Hills, Kotz Sangster Wysocki P.C., Argentine Tango Studio, The Two Talls, Grand Traverse Pie Company and Manno's Clothier of Dearborn.
About the Metro Detroit Chapter of the US National Committee of UN Women
The Metro Detroit Chapter of the US National Committee of UN Women supports the efforts of The US National Committee by through advocacy, education and fundraising. The US National Committee (USNC) for UN Women is an independent non-profit, 501c3 organization that supports the mission of UN Women and social, political, and economic equality for women and girls around the world.
The group hosts various events throughout the year and advocates for global women's issues and UN Women in communities around the country. The group also works to support legislation on global women's issues, especially on leadership, economic participation and ending violence against women.
Members and supporters are men, women, and children in cities around the country who give their time and resources to support a world where women of all ages have access to education and employment opportunities, and sustainable livelihoods that enable them to live free of gender-based violence.
About TTi Global
TTi Global provides staffing, learning, research and consulting solutions to industries across various sectors with automotive as a core focus. TTi Global oversees operations on five continents with offices spanning the globe, which include Australia, Brazil, Canada, Chile, China, India, Japan, Mexico, Peru, South Africa, Thailand, Venezuela, UK and most recently Afghanistan.
With a staff of over 2000 employees in international operations, they offer a wide range of services, tailor made to drive business goals, including business consulting, research, staffing, workforce development and learning solutions. TTi Global world headquarters are located in Rochester Hills, Michigan.