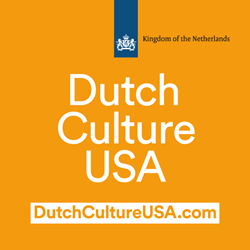 These wondrous Strandbeests are in their own way symbolic of our living at sea in companionship with the water and the wind in the Netherlands, and remind us that creative and technical solutions are needed in addressing issues like sea level rise.
MIAMI, FL (PRWEB) November 26, 2014
The Netherlands and Dutch Culture USA are proud to announce an unprecedented number of renowned, as well as up-and-coming, Dutch artists will participate in this year's Art Basel Week in Miami. The city welcomes them to its exhibit halls, on the beach and in its gardens, December 3-7, 2014. Dozens of Dutch artists, designers, and galleries are being represented this year, as well as must see international colleagues who live and work in the Netherlands, or are proudly presenting work from the Netherlands.
"Dutch artists and designers have been represented at Art Basel since the fair's launch in 2002," said Jan Kennis, Cultural Attaché at the Consulate General of the Netherlands in New York. "We are very proud to see that this has grown into an unprecedented level of Dutch participation, which runs the gamut from world-renowned artists such as Theo Jansen, to up-and-coming urban artists who are following in his footsteps."
The Netherlands, which has contributed to the art world for centuries with the likes of Van Gogh, Rembrandt, Frans Hals, Rietveld, Mondriaan, and many others, is witnessing a proliferation of innovative artists, many of whom use a cross-disciplinary approach between art and design, art and science, as well as art and commerce, a long-standing tradition in Dutch art. A remarkable example of this marriage is Theo Jansen, with his larger than life Strandbeests ("beach animals").
The exhibition Strandbeest: The Dream Machines of Theo Jansen will be presented at Art Basel in Miami Beach by Swiss luxury watch manufacturer Audemars Piguet and the Peabody Essex Museum (PEM) of Salem, Massachusetts. This presentation, on display at Audemars Piguet's exhibition space, Oceanfront between 21st & 22nd streets, previews the first major U.S. tour of Jansen's Strandbeests in 2015-2016, which is organized by the Peabody Essex Museum. Jansen's magical creatures will undoubtedly draw thousands of spectators to the beach.
"These wondrous Strandbeests are in their own way symbolic of our living at sea in companionship with the water and the wind in the Netherlands, and remind us that creative and technical solutions are needed in addressing issues like sea level rise," said Nathalie Olijslager-Jaarsma, Consul General of the Dutch Consulate in Miami. "As Jansen's beasts quickly evolve and adapt to environmental changes, so must we."
This year's Art Basel Miami Beach fair will once again be designed by Tom Postma Design, an Amsterdam-based international architecture and design firm that specializes in cultural institutions, art and design related exhibitions, and high-end interior and shop designs.
Miami has always been an important gateway city for international business between the Netherlands, the U.S. and Latin America, and is embraced as such by the Netherlands and its partners. Marcel Wanders' Mondrian Hotel, West 8's Lincoln Park, and Rem Koolhaas' / Office for Metropolitan Architecture's plans for 'Park Grove' and the Faena Forum are just a few examples, with the latter just announcing an opening date of December 2015. Faena Collaboratory Miami Beach will include many works by Dutch/Belgium duo Studio Job, and much more to follow.
Other Dutch art and culture highlights during Art Basel Miami 2014 include:
A Satyendra Pakhale outdoor solo exhibition at the Fairchild Tropical Botanic Garden, with support by Cappellini, Ammann Gallery (Cologne, Germany), Cristina Grajales (New York), and Design Miami, which blends art, nature, and design together to create a space where visitors are welcome to interact with the 40 pieces on display and the surrounding nature. Pakhale is considered one of the most influential minds in the design world, and works from Amsterdam, the Netherlands.
Design Miami has been very welcoming to Dutch design since its inception in 2005. As part of its 10th anniversary, more important Dutch works will be presented this year. Carpenters Workshop (London, UK), will present a solo exhibition with recent work by Dutch-Belgian duo Studio Job, including their "Aftermath" series, which references some of the world's most prominent monuments through the eyes of this duo following the 'aftermath' of the crisis of 2008. Galerie Vivid (Rotterdam, the Netherlands) will present a solo exhibition with recent 3D-printing marvels by Janne Kyttanen, a pioneer in the industry. Ornamentum Gallery (Hudson, NY), will present a world premiere with furniture by famed Dutch jewelry designer Ted Noten, and Priveekollektie (Heusden, the Netherlands) will present work by renowned Studio Makkink & Bey, among others.
The Amsterdam Street Art Foundation will feature Amsterdam-based street and mural artists in Wynwood, including Ives.one, The London Police, DHM/Hugo Mulder, Sober Industries, Beazarility, Tim van Vliet, Telmo/Miel, and Sjem Bakkus. The artists will begin their work on December 1, 2014, so make sure to visit them for daily live paintings, informal get-togethers, and—of course—painted bikes!
To view entire news release, visit: http://dutchcultureusa.com/blog/1993/dutch-culture-usa-press-release-for-miami-art-week-2014