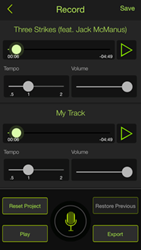 (PRWEB) January 07, 2015
A new mobile app from Knowledge On the Rise and Evolving, Inc. (KORE) makes it easy for iPhone and iPad users to record vocal tracks over any song. The app, called Studio Demo, is available now on the iTunes App Store for $0.99.
Users begin a new project by importing any song from their existing library. Then, a microphone icon prompts them to set up a recording session. A single tap starts both the backing track and the singer's demo session.
The tempo and volume of the imported track and the recorded audio can be adjusted to optimize the singer's performance, both before and after recording. If the vocal track is too loud, for example, it can be turned down so it does not overwhelm the music.
Project files are stored in a format only Studio Demo can read. Once any tweaking is finished, the user can export the mixed audio to a saved M4A file, the same type as most iTunes music. Then the song can be shared via email for an audition, narration, collaborative recording project, or any other purpose.
"We wanted to make a phone app that would make recording a song as simple as 1, 2, 3," said Demetrius Matthews of KORE. "Just find your favorite beat, download it to your phone or send it by email. Add your project name and import your beat, then record your vocals over the instrumentals and never have to leave your house or pay for studio time. Recording made simple!"
The $0.99 cent app is limited to 5 recordings. A $2.99 in-app purchase unlocks unlimited recording.