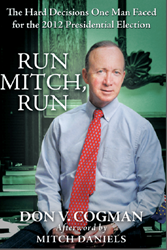 Mitch was a person many thought could be president of the United States, but in the end, he said no. In his words, 'I love my country, but I love my family more.'
Indianapolis (PRWEB) December 01, 2014
How would the United States be different if Mitch Daniels had run for the presidency in 2012?
As a popular two-term governor of Indiana, Mitch Daniels was considered one of the frontrunners for the 2012 GOP presidential nomination – until he made the difficult choice not to run.
"Run Mitch, Run," written by Daniels' close friend Don V. Cogman, divulges insider knowledge from the months and weeks leading up to Daniels' monumental decision.
Honoring his close work with Daniels and their 35-year friendship, Cogman shares the candid story of the two years leading up to the 2012 presidential elections from inside the "inner circle of 8."
Cogman shares a political insider's perspective on what makes and breaks a decision to run for the most powerful office in the world. Readers get an inside look at the emotional journey of the age we live in where smart, influential people are reluctant to get into national politics.
"Run Mitch, Run" reveals Mitch's beliefs, principals and values, while exposing readers to the antagonism and hostility that plagues the current national political scene.
"Mitch is a person of phenomenal intelligence combined with acute political instincts and extraordinary leadership abilities," Cogman said. "Mitch was a person many thought could be president of the United States, but in the end, he said no. In his words, 'I love my country, but I love my family more.'"
About the book
"Run Mitch, Run"
By Don V. Cogman
ISBN: 978-1491751060
Available in hardcover and e-book
Available on Amazon, Barnes & Noble and iUniverse
About the author
Don V. Cogman began his career as chief of staff to U.S. Senator Dewey F. Bartlett (R-OK) where he first met Mitch Daniels. Cogman became President and COO of Burson-Marsteller, one of the world's leading public affairs/marketing communication firms, and then served as Executive Vice-President of advertising conglomerate, Young & Rubicam, Inc. in New York City. He recently retired as Chairman of the PulsePoint Group, a management consulting firm. He and his wife, Susie, reside in Scottsdale, Arizona.
# # #