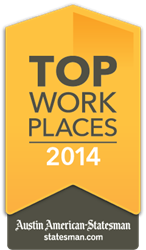 I'm proud to receive this award because it's an honor that comes from our greatest asset, our employees. Good culture is good business, and our employees are instrumental to our continued success. - Jeff Eastman, CEO
Austin, Texas (PRWEB) November 25, 2014
Alchemy Systems is pleased to announce that the firm has been selected as one of the Austin American-Statesman's Top Workplaces. The annual Top Workplaces selections are awarded solely on employee feedback collected via an anonymous survey.
Alchemy's core values focus on employees as the company's greatest asset. The company is committed to acting ethically, treating people fairly, celebrating outstanding performance, and developing employees for success. Employees surveyed reported that the work life balance offered at Alchemy is the cornerstone of what makes the company a first-rate employer. Alchemy employees consider themselves among a group of positive, happy people with a high degree of job satisfaction and strong sense of purpose.
The level of manager support at Alchemy is also a key reason why employees gave the company acclaim. Alchemy employees rated their managers higher than average for their commitment to helping them learn new skills, as well as developing plans to grow with the company. Employees believe that Alchemy's management sets them up for success leading to a high level of employee confidence in not only their future within the company, but also the future success of the company as a whole.
Alchemy CEO Jeff Eastman commented, "I'm proud to receive this award because it's an honor that comes from our greatest asset, our employees. Good culture is good business, and our employees are instrumental to our continued success."
The Austin American-Statesman published the complete list of Top Workplaces on Sunday, November 16. WorkplaceDynamics, LLP, a leading research firm, conducts the anonymous employee survey and shares the results with the Austin American-Statesman for their annual report.
For more information, please visit alchemysystems.com.
ABOUT ALCHEMY
Alchemy is the global leader in helping food companies engage with their workforces to drive safety and productivity. Alchemy's tailored awareness, coaching, and training programs are used by over two million food workers at 10,000 locations every month to increase yield, safeguard food and reduce workplace injuries. From farm to fork, Alchemy works with food growers, manufacturers, processors, distributors and retailers of all sizes. Leading companies use Alchemy food industry content, group-based training, e-learning, tablet-based coaching and 24x7 awareness programs to build a culture of operational excellence and safety.
ABOUT WORKPLACE DYNAMICS
WorkplaceDynamics conducts regional Top Workplaces programs with 40 major publishing partners across the United States. Over the past year, more than 5,000 organizations and 1 in every 88 employees in the U.S. have turned to WorkplaceDynamics to better understand what's on the minds of their employees. Through its workplace improvement offerings, WorkplaceDynamics provides solutions, training and tools to help clients improve their workplace.