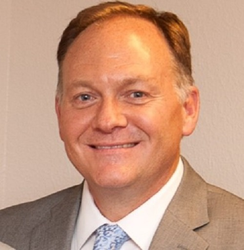 Brent's strong strategic and operational foundation combined with his proven track record of quality, culture and leadership development will be a valuable addition to Regional Health.
LENEXA, Kan. (PRWEB) November 25, 2014
After conducting a nationwide executive search led by healthcare leadership solutions firm B. E. Smith, Regional Health in Rapid City, S.D., has hired Brent R. Phillips as President and Chief Executive Officer. A veteran executive with more than 23 years of healthcare leadership experience, Phillips will assume his new duties on January 1, 2015.
"Brent's strong strategic and operational foundation combined with his proven track record of quality, culture and leadership development will be a valuable addition to Regional Health," said Pete Cappa, Regional Health Board of Trustees Chairman and CEO Search Committee Chairman. "The Board looks forward to working with Brent. Under his leadership the system will continue to provide exceptional patient care while meeting the needs of the multiple communities we serve."
Formerly, Phillips served as Senior Vice President of Medical Group Operations and then President of Greater Milwaukee South for Aurora Health Care in Milwaukee, Wis., providing leadership for all operational, financial and strategic functions across the medical group, four hospitals, visiting nurse agencies (VNA) and ancillary services. Before joining Aurora Health Care, Phillips served in several senior leadership positions with Mayo Clinic in Rochester, Minn. and Sentara Health Care in Norfolk, Va.
"Regional Health was seeking a forward-thinking senior healthcare executive with a dedicated focus on team building, developing robust physician partnerships and successful process improvement in complex environments," said Mark Madden, Senior Vice President of Executive Search for B. E. Smith, the healthcare executive search firm who conducted the nationwide CEO search for Regional Health. "Brent's experience and leadership style were the perfect fit."
Phillips earned a Master of Healthcare Administration and a Master of Business Administration, with an emphasis in Operations Management and Marketing, from the University of Minnesota in Minneapolis. He also holds a Bachelor of Business Administration from Idaho State University in Pocatello, Idaho. He is a Fellow in the American College of Medical Practice Executives (ACMPE).
About Regional Health:
With physicians and caregivers committed to excellence, Regional Health provides integrated care and service for patients and their families. Regional Health's broad network includes Regional Hospitals, Regional Medical Clinics, Regional Urgent Care, Regional Senior Care, Regional Cancer Care Institute, Regional Heart Doctors, Regional Orthopedics, Regional Rehabilitation Institute, Regional Behavioral Health Center and community physicians serving western South Dakota, as well as neighboring counties in Nebraska, Wyoming, Montana and North Dakota. Visit http://www.regionalhealth.com for more information about Regional Health.
About B. E. Smith:
Founded in 1978, B. E. Smith is a full-service healthcare executive search firm and the top-ranked provider of senior-level leadership services including Interim Leadership, Executive Search and Advisory Services. Veteran healthcare recruiters and regional healthcare experts partner with each client to create customized solutions. B. E. Smith's proven methodology has resulted in the recent placement of more than 900 leaders into healthcare organizations worldwide. The firm utilizes a comprehensive sourcing strategy incorporating the latest marketing techniques, association partnerships, social networking and one of the largest databases of skilled senior-level healthcare executives in the industry to deliver immediate results in today's complex healthcare environment. For more information, visit BESmith.com or call 855-254-8261.