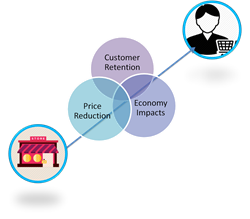 48% of the existing retailers planned to drop their prices in mid 2014 to retain their customers
Toronto, Canada (PRWEB) November 25, 2014
The article highlights on the significance of customer service versus price reduction strategies and its effect on merchant's performance across Canada. Retailers were challenged in 2014 to retain their customers and have decided to reduce their pricing, except for the food and beverages segment, which emphasized on customer service – Read More.
MONEXgroup used research topics to enhance the current market activity and the retailer's decision making towards their pricing strategy, which was obtained from the following sources:

Market reports published by American Express & Nielsen Survey this year have researched the Canadian retailers across all segments and their reaction towards the current market activities.
Industry reports by the Canadian Chamber of Commerce & Retail Council of Canada, discussed the objective of addressing cost reductions toward their inputs & products, with the national tariff agreement efforts to support the economy in general and the retailers in specific.
MONEXgroup; the number one payment processor in Canada, mission is to help merchants across all market segments to increase their cost efficiency and quality of service by:
1. Reducing their credit card transaction fees
2. Getting paid on time with next business day deposits
3. No need to switch banks
4. Providing payment terminals that suit their business needs
5. Reducing internal operating costs towards their services
6. Supporting terminal replacements within 2-4 hours - Learn More
Message to Retailers : "MONEXgroup supports merchants across all Canadian market segments with their pricing strategies. When partnering with the number one payment processor in Canada; MONEXgroup will increase your cost efficiency and quality of service. We provide you with reliable and secure payment solutions to meet your unique business needs. Request a Cost Comparison Analysis today by visiting MONEXgroup.com."