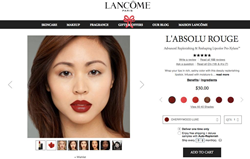 "Humans are wired to learn visually, and we have repeatedly shown that customers buy more when they see products they like on faces representative of who they are"
San Diego, Calif. (PRWEB) November 25, 2014
Sight Commerce, the company powering the visual commerce revolution, announced today that the world's leading luxury beauty brand, Lancôme, has launched INFINITE, its cloud-based visual commerce solution, on http://www.lancome-usa.com. The partnership is already having a major impact on Lancôme's sales, and is transforming the way women shop for cosmetics online.
For the first time, a customer can select a new lipstick – or any cosmetic product - online and immediately understand how the color looks on her skintone. Lancôme shoppers click through a selection of models, choosing one that represents the shopper's skintone. INFINITE then allows the consumer to browse the Lancôme products and see each product applied on that model. The shopper immediately sees how each cosmetic product will look on her.
Historically, women have gone online to replenish the beauty products they already know and love. Experimenting with the season's newest products or colors meant a trip to the nearest department store. It was simply too difficult selecting a new shade or product online, knowing it could end up in the dreaded "lipstick drawer" with all the other unused products.
Now, the risk of choosing a new lipstick online is eliminated, thanks to INFINITE. And shopping for beauty just got a lot simpler. Any time, any place, the shopper can privately see how the products will look on her. This not only gives the consumer the confidence to make a purchase decision online, but it gives her comfort that when the products arrive, they will look beautiful on her. Stress is eliminated and shopping for beauty is fun once again.
Sight Commerce believes faces and visual inspiration is key to commerce, online and in-store.
"Humans are wired to learn visually, and we have repeatedly shown that customers buy more when they see products they like on faces representative of who they are," says Vipanj Patel, Sight Commerce CEO. "We are at the beginning of the visual commerce revolution, and it's going to strain the retailers who are not prepared. Lancôme has the vision and the leadership that is enabling the brand to get out in front of the sea change that is about to hit the retail industry."
Already the world's largest beauty brand, Lancôme continues to push the industry forward with cutting edge innovation.
"For Lancôme, luxury means outstanding service and constant innovation to exceed our customers' desires. It's rare to find a partner who can deliver on that promise and actually have a significant impact on your business and sales," states Alessio Rossi, VP, Interactive and E-Business Marketing at Lancôme USA. "We are very excited about this partnership and at the innovation we are collaborating on with Sight Commerce."
As retailers optimize their online shopping experience, products like INFINITE will go a long way to eliminating buyers remorse, says Patel. In addition to beauty products, Sight Commerce technology is used for fashion accessories such as eyewear, jewelry, and accessories.
"In today's busy lifestyle, we know shoppers are increasingly going online, saving time, money, and hassle," says Patel. "They expect the same quality of experience online or in the store. With INFINITE, our clients can now exceed those expectations by delivering highly personalized and visually inspiring experiences that are omni-channel."
About Sight Commerce
Sight Commerce is powering the visual commerce revolution with its cloud-based solutions for retailers. The company generates millions of images to help retailers inspire their consumers, understand their shopping preferences and increase sales by creating confidence in the consumer's purchase decision. Sight Commerce is based in San Diego, Calif., and can be found online at http://www.sightcommerce.com.
About Lancôme, French Excellence
Founded in 1935 by the visionary pioneer Armand Petitjean, Lancôme immediately performed in selling perfume, beauty care and make-up to an international clientele. Today, the brand is present in 130 countries, with 20,000 beauty advisers in as many points of sale relaying a message of French excellence, with great services and iconic products (Tresor, La vie est belle, L'Absolu Rouge, Hypnose mascara, Teint Idole, Advanced Genifique, Visionnaire, Absolu L'Extrait, etc.). Lancôme affirms that happiness is the most attractive beauty and offers every woman the possibility to enhance her beauty and femininity, whatever her age and whatever her skin color, by giving her the best of science with major innovations. The luxury cosmetics house is represented by inspired - and inspiring - ambassadresses (Julia Roberts, Kate Winslet, Penelope Cruz, Lupita Nyong'o, Lily Collins, Daria Werbowy and now Alma Jodorowsky). Day after day, Lancome's ambition is that every woman who comes to Lancôme to be more beautiful leaves happier.