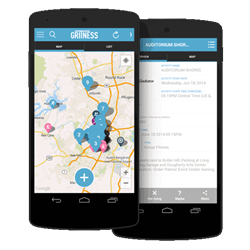 "Gritness wants to give users a one stop shop for finding all things group fitness."
Austin, TX (PRWEB) December 04, 2014
Already the fastest growing fitness search engine in the world, Gritness' recent integration with Active.com put it over the top with 200,000+ activities. Now with the release of Gritness 3.5, users can search for Active.com fitness based activities through Gritness. Now there is even more reason to get out and get Active.
"We want to give our users a one stop shop for finding all things group fitness. Traditionally users have been spread across the web in terms of where they want to search for races, yoga classes, group rides/runs, or even pickup soccer and basketball games. Giving them a central place to find all of these things based on location is a great way to give people an alternative to sitting at home on the couch. Here are your options; now take the first step towards a healthier lifestyle," said Co-Founder, Jason Whitson.
What's New With Gritness 3.5?
The Gritness 3.5 mobile app release comes with a lot of great updates in store as well. The mobile feed is now live with no ads or premier services to buy. Additionally, we have been focusing on making Gritness more user-friendly with great new features:

Quickly upload a photo and share your grit with the world
Link photos to an activity to specify where you got your sweat on
Spread motivation and grit by giving a high five to a friend's post
Comment on posts in the feed
Flag inappropriate posts
Photo upload feature completely redesigned for faster and more stable uploading
How Gritness Works
Gritness is based on a social platform that helps users find group fitness activities ranging from cycling, to running, yoga, and everything in between. Available for iOS and Android, Gritness connects people, and sparks motivation by helping users find and create group fitness activities.
At its very core, Gritness aims to be the home for group fitness activities all over the world. Individuals and business owners alike can create an account for free and have access to everything Gritness has to offer.
Gritness allows users to both create and join group activities in their area. Whether someone is working out solo, looking for people to join, or trying to find like-minded people to help with fitness goals, Gritness helps anyone do it all.
Fitness seekers can use Gritness' local map to check out all nearby activities and find something that sounds right for anyone's level of fitness. While Gritness is primarily focusing on the US, the international adoption is rapidly growing. For avid travelers, search for activities at any destination and discover people to work out with or post a workout plan for locals to join.
About Gritness
Gritness (Gritness.com) launched in Austin, Texas in June of 2013 by co-founders and avid cyclists, Jason Whitson and Tommy Fad. Whitson and Fad's vision is to ignite group fitness by creating a digital resource that allows members of the fitness community to discover, organize and create fitness events. Today, Gritness hosts thousands of group and event listings helping organize fit lifestyles by focusing on an underserved area of digital fitness, pre-activity tasks and coordination. To learn more about Gritness and create a free account, visit http://www.gritness.com.