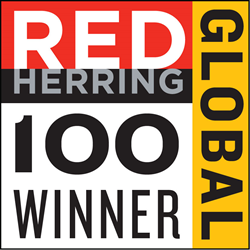 Pasadena, CA (PRWEB) November 25, 2014
Red Herring's Top 100 Global list has become a mark of distinction for identifying promising new companies and entrepreneurs who are shaping the future of how we work and live. Previous Red Herring award winners include global companies such as Facebook, Twitter, Google, Salesforce.com, and YouTube. hc1.com has the honor of being the only company to have ever been recognized by Red Herring for two consecutive years.
"We are honored to be recognized as a Red Herring Top 100 Global award winner again," said Brad Bostic, Founder and CEO of hc1.com. "Receiving this award again signifies that the hc1® Healthcare Relationship Cloud® continues to transform the healthcare experience for providers and patients. We invented healthcare relationship management with this idea in mind, and are ready to optimize the healthcare journey for billions of people around the world."
"Choosing the companies with the strongest potential was by no means a small feat," said Alex Vieux, publisher and CEO of Red Herring. "After rigorous contemplation and discussion, we narrowed our list down from hundreds of candidates from across the globe to the Top 100 Winners. We believe hc1.com embodies the vision, drive and innovation that define a successful entrepreneurial venture."
Red Herring's editorial staff evaluated the companies on both quantitative and qualitative criteria, such as financial performance, technology innovation, management quality, strategy, and market penetration. This assessment of potential is complemented by a review of the track records and standing of startups relative to their peers, allowing Red Herring to see past the "buzz" and make the list a valuable instrument of discovery and advocacy for the most promising new business models from around the world.
About hc1.com
The hc1® Healthcare Relationship Cloud® enables health systems and diagnostic labs to personalize the healthcare experience for patients and providers throughout the entire care journey. By combining the ultimate healthcare CRM, real-time analytics, and secure collaboration capabilities in one HIPAA-compliant, secure private cloud solution, hc1 automatically constructs comprehensive patient profiles to deliver an outstanding patient experience.