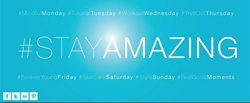 Based on evoDerma's concept that real and natural beauty is amazing, the Facebook page looks to not only share products but to also provide fans with the best beauty tips daily.
(PRWEB) November 25, 2014
EvoDerma's marketing and design team works hard to produce top quality content that is memorable, informative and interesting. Trendy images, videos and articles are combined with original content. These keep evoDerma's followers informed about the company's high quality beauty and relaxation devices, and of course, to give them the best tips and tricks to help them #StayAmazing.
Social media posts are based around unique daily themes: Mindful Monday, Tutorial Tuesday, Workout Wednesday, Try It Out Thursday, Forever Young Friday, Skincare Saturday and Style Sunday. The aim is for fans to engage as much as possible with the published content and become part of the evoDerma community. A recent example of positive fan interaction is when Instagram users were asked to submit their most glamorous Halloween selfies so as to become the Style Sunday star.
EvoDerma also regularly posts Feel Good Moments; remarkable videos and websites that create a 'wow effect'. These can be anything from amazing feats of human achievement to incredible choreography, to inspirational art works. The aim is for the audience to come away from the page feeling inspired and most of all, amazing.
With a current Facebook following of over 7,600, evoDerma aims to continue to grow and reach more and more people.
About evoDerma
Based in Montreal, Canada, evoDerma Inc. is a beauty provider that specializes in leading-edge IPL hair removal, skincare, anti-aging, and well-being technology. We have successfully created the latest in high quality aesthetic devices with style and comfort in mind. Designed for at home use, our professional-grade products are known throughout the industry for their reliable reputation as well as their iconic design.
http://www.facebook.com/evoderma
http://www.instagram.com/evoderma