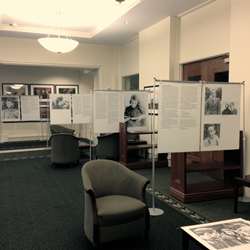 Bath OH (PRWEB) November 26, 2014
Old Trail School will host Remembering Resistance: The White Rose Exhibit, at the School from December 1- 5. This exhibit is presented by Classrooms Without Borders, a program of the United Jewish Federation of Greater Pittsburgh.
The White Rose was a non-violent, intellectual resistance group in Nazi Germany, consisting of students from the University of Munich and their philosophy professor. The group became known for an anonymous leaflet and graffiti campaign, from June 1942 - February 1943, that called for active opposition to dictator Adolf Hitler's regime. The six most recognized members of the German resistance group were arrested by the Gestapo, tried for treason and beheaded in 1943.
The text of group's sixth leaflet was smuggled out of Germany and in July, 1943, copies of it were dropped over Germany by Allied planes, retitled "The Manifesto of the Students of Munich." Today, members of the White Rose are honored in Germany amongst its greatest heroes, because they opposed the Third Reich in the face of almost certain death.
Holocaust study is part of the Grade 7 Middle School curriculum and students will be actively involved in the exhibit while it is at Old Trail School. Grade 7 students are reading Night by Elie Wiesel, and have completed research papers on a Holocaust-themed topic of their choice.
Students have also been working on a project that combines a viewing of the film The Diary of Anne Frank, with the study Marc Chagall's elements and principles of design. Students are creating their own sketches based on the film, and then combining those with actual images of the film using Photoshop Elements. The student work will be on display alongside the White Rose exhibit.
Students will host a reception for the School community and the public on Thursday, December 4 from 4 - 5:30 p.m. at the School (2315 Ira Road, Akron 44333.) Attendees may view the White Rose Exhibit and also view student work.
Old Trail School is an independent, coeducational day school for students aged two through grade eight. Located in the beautiful Cuyahoga Valley National Park in Bath, Ohio, the School offers a personal, nurturing and academically challenging liberal arts program to students and families in a five-county region that emphasizes excellence in academics, athletics and the arts. For more information about Old Trail School visit oldtrail.org.