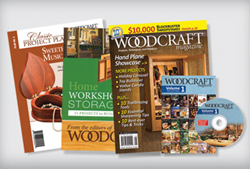 'Woodcraft Magazine' continues to be a one of the key components of Woodcraft's overall effort to provide one-on-one education for woodworkers.
Parkersburg, W. VA. (PRWEB) November 24, 2014
In late November 2004 the first issue of "Woodcraft Magazine" arrived at subscribers' mailboxes and at newsstands. Ten years later the woodworking publication is the centerpiece of a publishing venture that includes paper and digital formats, project plans, online downloads, special interest publications, and a CD-ROM featuring five years of content.
Woodcraft Supply, LLC, one of the nation's oldest and largest retailers of top quality woodworking tools, materials and supplies, is the magazine's parent company.
"'Woodcraft Magazine' continues to be a one of the key components of Woodcraft's overall effort to provide one-on-one education for woodworkers," publisher Gary Lombard said. "The combination of delivering solid content through projects, techniques and products, along with handy buying guides for project tools and supplies, separates 'Woodcraft Magazine' from other publications. As a result, our circulation base continues to grow."
In 2007, Woodcraft hired Jim Harrold, retired executive editor of WOOD magazine who has three decades of writing and editing experience with Meredith Publishing, as "Woodcraft Magazine" editor-in-chief.
"When I took over 'Woodcraft Magazine,' I went to work remodeling the editorial makeup, emphasizing woodworking projects, techniques, and products. That's a success formula I learned from my previous jobs in the woodworking magazine industry and from surveys and focus group efforts," Harrold said. "I also hired two top-notch seasoned senior editors and had my art director redesign the magazine. Together, we pulled in some of the very best woodworkers, project designers, and illustrators in the country to serve as contributors."
The next step, Harrold said, was to publicize the new format through direct-mail packages to reflect the changes. "The magazine began to grow in leaps and bounds, and with a circulation now nearing 120,000 readers, we are continuing to grow."
"From the very beginning, our goal has been to give readers project plans that suit their interests and needs–from small items that make welcome gifts to attractive furniture projects–and to teach them a full range of skills along the way to make them the best woodworkers they can be," Harrold said. "Toward that end, the staff began helping me repurpose and repackage our growing library of woodworking project and technique stories from past issues into ancillary products."
"Woodcraft Magazine" Milestones

2008 – The Classic® Project Plan business was launched, making selected projects from the magazine available for purchase as paper plans or online downloads.
2010 – The Classic® Shop Plan series was introduced.
2011 – The magazine was recognized in Media Life as fifth among the top 25 consumer magazines that gained circulation in the first six months of the year – from 78,914 to 100,581.
2012 – "Woodcraft Magazine" became available in digital format.
2012 – "14 Wooden Boxes You Can Make," the first special interest publication (SIP) in the magazine's Home Woodworker Series, was released by Schiffer Publishing. The book features box projects from the magazine.
2013 – Two more SIPs in the series were published: "Home Workshop Setup: The Complete Guide" and "Home Workshop Storage: 21 Projects to Build," both featuring magazine content.
2014 – "Woodcraft Magazine, Volume 1: The 1st 5 Years," a CD-ROM containing the content of the first 31 issues, was released.
2014 – A fourth SIP, "Home Workshop Jigs and Fixtures," is scheduled for release within the next few weeks.
Sweepstakes and a Special Issue to Celebrate
SWEEPSTAKES. The magazine is sponsoring a "$10,000 Blockbuster Sweepstakes" through Jan. 31, 2015. For more information, visit http://www.woodcraft.com/PressReleases/pressreleases.aspx?id=258 and http://www.woodcraft.com/contests/Landing.aspx?pid=32.
DEC 2014/JAN 2015 ISSUE 62. "When we planned this issue, we wanted to pursue stories that tied in with the best of what Woodcraft Magazine has to offer in terms of engaging and useful content. We kick it off with a classic hand plane cabinet project," Harrold said. "We also got playful with the '10' concept by including the 10 best tips and tricks from all 61 issues, 10 essential sharpening tricks, and the 10 most game-changing innovations in the woodworking product world over the last 10 years."
Learn more about "Woodcraft Magazine" at http://www.woodcraftmagazine.com and http://www.facebook.com/woodcraftmagazine.