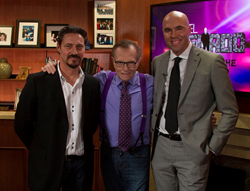 We couldn't be more excited, we have no doubt that this is the most perfect of marriages. ORA TV is hands down the only Network with the resources and know how to make Sergio's El Pelado brand a worldwide phenomenon.
Beverly Hills, Ca (PRWEB) November 24, 2014
Sergio Bruna, the Spanish business entrepreneur and entertainer, celebrated big in Hollywood last night, after signing one of the most lucrative Television deals of the Century.
Sergio Bruna, the creator and host of "El Pelado de la noche", recently signed a contract with ORA TV, a network owned by the Mexican Tech Mogul Carlos Slim and the American television and radio personality Larry king. Sergio will become the first Spanish TV personality to host a Late Night Talk show worldwide.
Sergio's publicist Willem Dessler remarked, "We couldn't be more excited, we have no doubt that this is the most perfect of marriages. ORA TV is hands down the only Network with the resources and know how to make Sergio's El Pelado brand a worldwide phenomenon. We are very happy for Sergio, he deserves it."