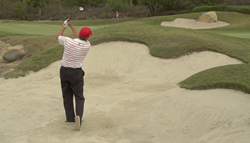 (PRWEB) November 25, 2014
Players who would like more consistency with their short game will be amazed at what the Black Magic Sand Wedge can do for their game.
Many players feel that the driver is the most important club in the bag as you see it is the most used at practice ranges. Hitting fairway is very necessary to score well but as always the wedge and putter will be the determining factor. This is why the hybrid Sand Wedge by Black Magic Golf has grown in popularity so fast in a short time.
Even the best players in the world miss approximately 30 percent of greens in regulations. They even miss many fairways in a round of golf, but because of the great touch with a wedge they are able to shoot under par consistently. The average player is lucky to hit 30 percent of greens in regulation. This is why the average score is still around 100.
Players that are really interested in improving their score need to put time in at the range hitting wedge shots from different lies and distances. You will want to have the best golf wedge that can help you improve this part of the game. The Golf Equipment from Black Magic Golf has a special design bottom that won't dig into the turf or sand like a standard wedge.
This helps players who have a tendency to hit the turf a little too far behind the ball with shots ending up short of the target. The Black Magic Wedge has a zero degree bounce angle at impact. This helps players who hit the turf early to still get the leading edge of the face under the ball for fast lift. The hosel is positioned off the face which gives players more room from the toe to the heel without hitting a shank. These wedges Conform to USGA Rules and make practicing more fun. Visit http://www.blackmagicwedge.com for more information.
About:
Black Magic Golf invented a hybrid wedge known as the HWedge with their patented face forward design that Conforms to USGA Rules. The large sweet spot helps to assist with off center shots. Black Magic Hybrid Wedges help golf enthusiasts find new precision with high, soft shots as they make their way onto the green. Black Magic Wedges come in 37°, 48°, 52°, 56°, 60° Right Hand Lofts and 56° Left Hand Loft.
Contact:
Brad Cochran, General Manager
Black Magic Golf, 10850 Dover Street, Suite 500, Westminster, CO 80020 or Call Toll Free 877-799-6099.