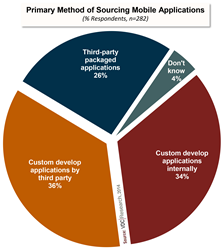 While not the investment barrier that it has been in years prior, augmenting mobile application development capabilities remains a challenge and will be increasingly required as demand for mobile access to corporate applications and data increases.
Natick, MA (PRWEB) November 25, 2014
With the acceptance of smartphones and tablets as viable computing platforms increasing, it is apparent that the appetite for mobile applications in enterprise deployment environments is growing, according to a new report by VDC Research (click here for more info). Moving forward, mobile applications will be impossible to ignore and will require investments in application development platforms and tools for efficient delivery of new applications expected by the market. Companies now realize the potential value that mobile applications can bring to different lines of business – as productivity tools for employees and as engagement channels facing customers. However, choosing a development approach that best addresses the unique needs of companies across a broad range of industries is becoming increasingly challenging.
The need to deliver multiple apps across several popular mobile platforms is the natural progression that is inevitable with expanding mobile deployments. VDC Research forecasts that the mobile application platform and tool market will see a healthy compound annual growth rate (CAGR) of 17.7% from 2014 to 2018. A new report from VDC details revenues, regional breakouts, technical requirements, and leading vendor share for this rapidly evolving market.
Organizations are beginning to actively engage in developing custom applications. While 26% of respondents acquire prepackaged applications, this is increasingly difficult for enterprises given the amount of customization they have implemented to their application environments and legacy applications. VDC sees this trend creating a sizeable opportunity for vendors participating in this market.
While solutions that simplify the mobile application development process continue to emerge, the variety of approaches continues to evolve, making identifying the most appropriate solution difficult for prospective customers. While powerful development tools that cater to front-end developers continue to emerge, many lack the backend integration capabilities that enterprise deployment environments require. Vendors that can deliver a holistic solution that can bridge this divide will be well positioned for success in this market.
Venture capitalists have invested more than $200M in prominent enterprise oriented mobile application development platform and tool vendors in the past 12 months. VDC believes that M&A in the space will be on the rise in terms of the size and number of acquisitions. Core engineering will play a big part in vetting the valuation of future transactions, with open technology, scalability, security, and agility leading the charge.
"While the debate over the merits of native application development versus HTML5 web apps has waned, organizations must still make decisions as to which approach works best for their mobile application needs." said Eric Klein, Senior Analyst for Enterprise Mobility at VDC Research. "While technology decision-makers may be inclined to standardize on a mobile platform, it does not reflect the reality of today's market. Fundamentally, design decisions need to be based on the target user and the desired application functionality."
About VDC Research:
VDC Research is a leading technology market analyst firm covering the connected world, focusing on embedded devices and enterprise mobility. Founded in 1971, the firm provides critical market intelligence to the world's leading technology vendors, who rely on its analysts for the data, ideas, and insights they need to make impactful strategic decisions with confidence.