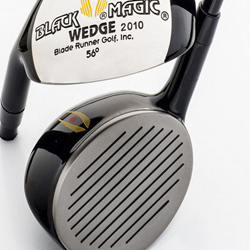 There is a distinct difference when you compare a traditional Gap Wedge to the Black Magic Hybrid Wedge.
(PRWEB) November 28, 2014
Golfers from the pros to amateurs have been impressed when they have put the Black Magic Gap Wedge to the test on the course. The full line of Black Magic Hybrid Wedges is changing the short game in a great way for players of all levels.
With the no hosel on the face design and extra wide sole plate, this new type Gap Wedge takes the guess work out of short game shots. Players can now have the confidence needed to lay the face open for more height on certain shots without the fear of hitting a shank or the ball rolling too far past your intended target from approaching the green too low. Both pro and amateurs agree this gap wedge feels more natural and comfortable during the complete swing.
There is a distinct difference when you compare a traditional Gap Wedge to the Black Magic Hybrid Wedge. Black Magic Wedge still has an iron face with conforming grooves that offer great control and spin but it also has a hybrid type body that slides easily over the turf or through the sand. This reduces the chance of chunking shots leaving them short of your target.
Black Magic offers some of the Best Gap Wedge Rates in the retail golf, the full line of advance technology in these wedges are priced at a very affordable price and are sold to most parts of the world.
The company encourages players who are truly interested in improving their short game to view the many short videos on everything from tight lies to bunker shots showing how much easier these shots can become using the patent design from Black Magic. There is always room to knock off a few more strokes with a better wedge game.
About:
Black Magic Golf invented a hybrid wedge known as the HWedge with their patented face forward design that Conforms to USGA Rules. The large sweet spot helps to assist with off center shots. Black Magic Hybrid Wedges help golf enthusiasts find new precision and high, soft shots as they make their way onto the green. Black Magic Wedges come in 37°, 48°, 52°, 56°, 60° Right Hand Lofts and 56° Left Hand Loft.
Contact:
Brad Cochran, General Manager
Black Magic Golf, 10850 Dover Street, Suite 500, Westminster, CO 80020 or Call Toll Free 877-799-6099.
http://www.blackmagicgolf.com