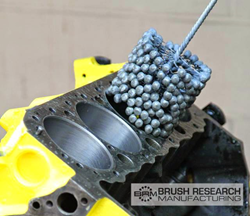 Flexible cylinder honing reduces oil consumption and blow-by, an engine problem that results in loss of horsepower.
Los Angeles, CA (USA) (PRWEB) November 25, 2014
Brush Research Manufacturing (BRM), American-owned supplier of surface finishing solutions, is announcing a new technical article about how Flex-Hone® tools promote engine performance in new and used engines. The California manufacturer plans to attend the Performance Racing Industry (PRI) tradeshow (Booth #5511) in Indianapolis, Indiana from December 11 to 13, 2014.
Flex-Hone® tools are the industry standard for inner diameter (ID) surface finishing. Self-centering, self-aligning to the bore, and self-compensating for wear, these flexible cylinder hones are used by engine manufacturers and automotive mechanics alike. BRM's engine hones feature abrasive balls or globules, and a metal stem for easy mounting in handheld power tools or production machinery.
Engine Cylinder Deglazing
As BRM's new technical article explains, engine manufacturing creates rough, uneven peaks that can interfere with piston ring seating and sealing in high performance engines. Flexible honing removes these peaks along with the torn, folded, and jagged metal that's left behind by rigid honing. BRM coined the term plateau finishing to describe this process, and recommends plateau honing for proper seating and sealing.
Flex-Hone® tools are also used to deglaze cylinder walls, a surface condition that's caused by the up-and-down movement of the pistons. Left unbroken, a mirror-like finish on engine walls or liners can prevent oil from adhering properly. To avoid lubrication and friction problems, engine mechanics use Flex-Hone® tools to impart a cross-hatch pattern of oil-retaining grooves or valleys.
Piston Ring Seating and Sealing
As BRM's technical article explains, surface finish is also related to blow-back, an engine problem that results in loss of horsepower in high performance engines. If the expanding gases in the combustion chamber slip past the piston rings and reach the crankcase, compression loss and oil contamination can occur. To promote piston ring sealing then, engine manufacturers and mechanics use flexible honing tools for surface finishing.
Flex-Hone® technology is used in numerous industries, but ball hones from BRM capture the checkered flag for automotive applications. For more information about Flex-Hone® tools for the performance racing industry, contact BRM today and visit Booth 5511 at PRI 2014. Distributor programs are available for jobbers and stocking warehouse distributors, and export inquiries are welcome.
About Brush Research Manufacturing
Brush Research Manufacturing (BRM), makers of flexible honing tools and a full line of automotive and diesel brushes, is located in Los Angeles, California. For over 55 years, BRM has been solving surface finishing challenges with brushing technology. BRM's Flex-Hone® tool is the industry standard against which all other ID surface finishing solutions are compared.
Media Contact:
Heather Jones
Director of Marketing
Brush Research Manufacturing Co. Inc.
4642 Floral Drive
Los Angeles, CA 90022
HJones(at)brushresearch(dot)com
For Immediate Release:
http://www.brushresearch.com
Ph: (323) 261-2193