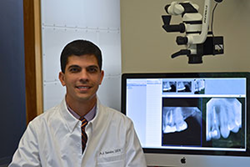 Jacksonville Beach, FL (PRWEB) November 24, 2014
Jacksonville Beach, FL residents who struggle with severe tooth sensitivity or other pain are now invited to visit Dr. Allan Sandor and his staff at Sandor Endodontics, who specialize in advanced dental technologies and procedures that help to alleviate painful symptoms, restore oral health, and save teeth in the most minimally invasive ways possible. Today's endodontic root canal treatments make it easier and less painful than ever before for patients to prevent tooth extraction and be able to enjoy the full cosmetic appearance and functionality of natural teeth.
A root canal has long been one dental procedure that strikes fear in the hearts of many people, but need not do so any longer thanks to Dr. Sandor's utilization of modern processes. Dr. Sandor takes great care in ensuring maximum patient comfort at all stages of endodontic treatments. He also educates his patients so that they understand what is done and why. A root canal involves the removal of soft pulp within the interior of the tooth that contains nerves, blood vessels, and other tissue which can become infected due to injury or decay. This pulp is required for the proper development of the teeth but is not needed once adult teeth are fully formed. If left in place when infected, tooth loss and even jaw bone problems can develop.
People may notice a variety of early symptoms alerting them to the presence of infected or inflamed tooth pulp such as sensitivity, swelling, pain when biting or chewing that travels through the region, and even visible changes in the nearby gum tissue. The sooner that treatment is sought for tooth sensitivity in Jacksonville Beach, FL, the easier the solution will be because the infection will have less opportunity to spread. If a needed root canal is not performed, a tooth can be lost, which exposes the patient to other potential issues such as the loss of jaw bone tissue, speech, and limited functional use of the area.
If you are concerned about tooth sensitivity in Jacksonville Beach, FL, you are strongly encouraged to contact Dr. Allan Sandor at Sandor Endodontics for a consultation. Dr. Sandor will help to identify the source of your discomfort as well as the right treatment to get you pain free, save teeth when possible, and restore your optimal oral health.
About The Practice
Sandor Endodontics is an endodontic practice offering patients modern treatment in performing root canals to save teeth in Jacksonville, FL. Dr. Allan Sandor completed his undergraduate studies at the University of Florida and received his dental degree from Marquette University, College of Dentistry in Milwaukee, WI. He was a dental officer in the United States Navy and completed a one year Advanced Education in General Dentistry at the Marine Corps Recruit Depot on Paris Island, SC. He was selected within the Navy for training in endodontics and received his certificate from the University of Iowa, College of Dentistry. To learn more about Dr. Sandor, a published endodontist, visit his website at http://www.endodontistjacksonville.com and call (904) 302-9812.