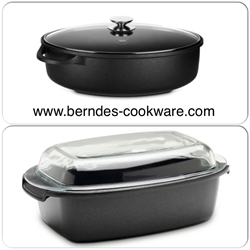 Lima, Ohio (PRWEB) November 26, 2014
Berndes' SignoCast Cookware line of cookware is formed from vacuum-pressure cast aluminum and is guaranteed never to warp. SignoCast is exceptionally easy to clean and facilitates fat-free cooking. The SignoCast Cookware is coated with a 3-layer Weilburger, Greblon® C3+ also known as "Stonehenge" Professional Quality Non-stick interior coating and a 2-layer non-stick exterior surface coating, to protect foods from sticking and burning.
The SignoCast signature look is known for its sleek black on black cookware with a touch of shimmering silver flakes accentuated with Black phenolic handles.
The SignoCast Oval Roaster with forged handles comes with Glass Lid and is accentuated with a Stainless Steel knob. This roaster measures 16 inches in length by 10 inches width and is 8.75 quarts. Its oval shape is perfect for a large family size serving of pot roast or fish filet.
The SignoCast Multi-Purpose Roaster comes with a domed glass lid. This particular roaster measures 13 inches in length by 8.5 inches in width and holds 5.5 quarts. This rectangular shape is perfect for a family size portion and is great for serving baked dishes as well as a small rotisserie chicken.
To learn more about Berndes Cookware, go to http://www.berndes-cookware.com.
About Berndes
Berndes has developed produced and distributed cookware since 1921 and is the largest pan manufacturer in Germany, as well as the world-marketing leader in nonstick coating cookware made of cast aluminum. The high quality, award-winning range made of cast aluminum, spun aluminum and stainless steel is exported worldwide and has been distributed through qualified channels for decades.
With a marketing strategy that focuses on people with an affinity for cooking and appeals to the emotions, Berndes is set for success. As has always been the case, production is carried out at the company headquarters in Arnsberg, Germany. These processes only use materials that do not affect the environment, resources or health. The in-house test laboratory conducts continual quality controls accompanying production. Neutral test institutions both attest the company's high quality standards repeatedly domestically and abroad.