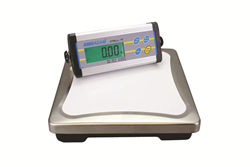 Adam Equipment expands its popular CPWplus series in the United Kingdom, Europe, North Africa and the Middle East.
Danbury, Conn. (PRWEB) November 25, 2014
Adam Equipment, a world-class balance and scale manufacturer, has announced availability of its CPWplus 6 and CPWplus 15 bench and floor scales in the United Kingdom, Europe, North Africa and the Middle East.
With exceptional value and numerous features, the CPWplus capably meets the demands of industrial, warehouse, office, field and laboratory settings.
CPWplus scale is simple to operate and is equipped with a durable, easy-to-clean stainless steel platform. An RS-232 interface provides speedy connection to printers and computers, facilitating data collection and analysis. Also included with the scale is a wall mounting bracket and a six-foot-long cable, allowing the remote indicator to be set up in an optimal viewing position. Other features include a backlit display, auto power-off to save battery life, and a hold function for dynamic/animal weighing.
Both models of the CPWplus feature a 300mm x 300mm platform and are powered by AC adapter or six AA batteries. The CPWplus 6 offers a capacity of 6kg and readability of 2g, while the CPWplus 15 offers a capacity of 15kg and readability of 5g.
For more information about the CPWplus bench and floor scales, go to http://www.adamequipment.co.uk/uk/balances/122. To learn where you can purchase any Adam Equipment scale or balance, email us at sales(at)adamequipment(dot)com
About Adam Equipment
For more than 40 years, Adam Equipment has designed and manufactured precision balances and scales for professionals worldwide in the laboratory, medical, education, industrial, food, animal/veterinary and jewellery markets. Adam is committed to offering an extensive selection of weighing equipment with best-in-class value. Headquartered in the United Kingdom, the company has strategically established offices in the United States, South Africa, Australia and China to provide product support and speedy delivery to distributors. For more information about the company and its products, go to http:// http://www.adamequipment.com.
Media Contact:
Ruthanne Bell
Adam Equipment
r(dot)bell(at)adamequipment(dot)com
203-790-4774