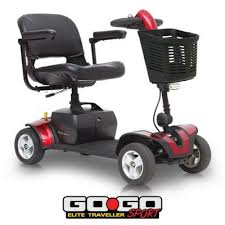 The Go Go series of mobility scooters are great for anyone who has trouble walking, or anyone with special needs.
WEST PALM BEACH, Fla. (PRWEB) November 25, 2014
Family Rentals, a South Florida-based rental company, now has Pride Mobility Scooters, or the "Go Go" series as seen online, available for rent or purchase.
The "Go Go" series come apart in five easy pieces for travel, shopping, sightseeing, and cruise ship excursions – opening doors for people who have trouble walking or people with special needs.
Family Rentals offers three types of mobility scooters for consumers. The three-wheel Go Go Elite Traveller (item code #3210) has the advantage of a small turning radius, and is the best choice for indoor or outdoor use. It is a lightweight scooter that can handle rough terrains and has a longer driving range than most other lightweight electric scooters. The four-wheel Go Go Elite Traveller (item code #32113) is designed to carry larger weight over longer distance than their lightweight and mid-range counterpart. It is ideal for outdoor use, and allows for a smoother and more comfortable ride. The four-wheel Go Go Sport (item code #321131) has a 325-pound weight capacity for those that need more support. This scooter has a "whisper" quiet, maintenance-free drive system that powers the scooter to go up steeper hills and strides.
In addition to these three types of models, Family Rentals has an assortment of additional models that can be found on the website.
"The Go Go series of mobility scooters are great for anyone who has trouble walking, or anyone with special needs," said Mike Merlo, Founder of Family Rentals. "Typically, customers will rent our scooters for a week or two to try the product out before making a purchase; and, in fact, we actually credit back a part of the rental fee toward the purchase of a new or used scooter."
Besides Mobility Scooters, Family Rentals carries a full line of Pride Mobility Products, including Recliner/Lift Chairs, Powerchairs, Wheelchairs, and Ramps. In addition to Pride Mobility Products, Family Rentals also offers a variety of Top Medical Equipment Brands including Incacare Corporation, Tuffcare, Drive Medical Design & Manufacturing, Medline Industries, Golden Technologies, Temcare Medical Design & Manufacturing, Graham-Field Health Products, Mason Medical Products, Sunrise Medical Equipment, and Essential Medical.
Family Rentals also offers a wide range of other rental items including cribs and baby needs; beds and furniture; tables, chairs, linens, and glassware; wheelchairs and hospital beds; bicycles and rollerblades; beach and pool items; sports and exercise equipment; and, audio visual equipment among many other items.
About Family Rentals
Family Rentals is the leader in South Florida for all of your rental item needs. Family Rentals offers only quality products, prompt delivery and professional service to all points in South Florida. Our on-staff event planners can coordinate any size event no matter how large or small. We are fully insured and accredited by the State of Florida. Our rental delivery service is available 24 hours a day, seven days a week, and 365 days a year. All rental items are cleaned and sterilized by our full housekeeping staff. We are family owned and operated for nearly 20 years and well known through our large network of business partners.
For additional information on Family Rentals, please visit familyrentals.com, speak to a specialist at (561) 279-9355, or send an email to info(at)familyrentals(dot)com. Family Rentals proudly serves Miami-Dade, Broward and Palm Beach counties.
###