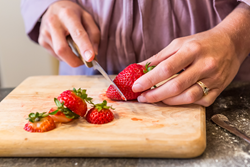 Miss Kay understands how kitchens bring families together, and our homes are equipped to do just that.
MARYVILLE, Tenn. (PRWEB) November 25, 2014
Clayton Homes, America's largest homebuilder*, shares five tips to make holiday entertaining easy and enjoyable for party hosts and hostesses who will be spending time in their kitchens this season.
Many of Clayton's home models are well equipped for cooking enthusiasts and those who like to have company during the holiday season. From large kitchens to open floor plans, Clayton Homes has several customizable features that make hosting over the holidays convenient and fun.
One Clayton Homes feature that has grown in popularity is Miss Kay's Designer Kitchen, a customizable option available in the company's Commander Series of homes. Miss Kay's Kitchen comes with several top-quality features that were designed for A&E's Duck Dynasty® family matriarch, Miss Kay, like a farmhouse sink, gooseneck faucet, upgraded stove backsplash and more.
Whether you are in a Miss Kay's Kitchen or not, here are five easy tips for holiday entertaining:

Tip 1: Make a menu—Chefs do this all the time to prepare and organize for their event. Write down the items needed for preparation and number them in the order they are to be served. Picking a couple items to make the day or evening before is always a great idea.
Tip 2: Delegate—Give different family members different roles to help with the preparation process. For example, identify a "work station" for them to chop veggies or mix ingredients. Or ask family members to contribute a favorite dish from home.
Tip 3: Appetizers and quick grabs—Prepare easily storable snacks in advance. People tend to eat on odd schedules during the holidays, so keep some good choices available if there are hungry ones (or teenagers) around.
Tip 4: Décor without distraction—Keep dinner table decorations low in height so guests can see each other and put up decorations several days in advance.
Tip 5: Remember the leftovers—Everyone loves a leftover turkey sandwich, so refrigerate remaining food within the hours of serving. This is recommended by food safety groups to ensure those leftovers don't spoil.
"A large part of what makes the holidays so great is spending time at home with the people you love," Kevin Clayton, CEO of Clayton Homes, said. "That's why we offer features like Miss Kay's Designer Kitchen. Miss Kay understands how kitchens bring families together, and our homes are equipped to do just that."
For more information on what customizable amenities are available in Clayton Homes' hundreds of models, visit ClaytonHomes.com.
About Clayton Homes
Clayton Homes has built homes since 1956, winning multiple awards for design and construction. Through its affiliates and family of brands, Clayton Homes builds, sells, finances, leases, and insures manufactured and modular homes, as well commercial and educational buildings. As the nation's largest home builder*, Clayton Homes is a vertically integrated Berkshire Hathaway company whose purpose is opening doors to a better life, one home at a time.
Duck Dynasty and A&E are the trademarks of A&E Television Networks, LLC and are not affiliated with Clayton Homes, nor is Clayton Homes a sponsor of Duck Dynasty.
America's Largest Homebuilder in 2013 as of June 12, 2014, based on a comparison of the number of manufactured homes sold to the number of site-built homes sold as reported by builderonline.com and the number of manufactured homes shipped as compared to all other manufactured home manufacturers as reported by the Manufactured Home Institute.
# # #