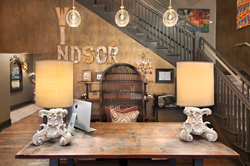 In this age of the pursuit of self gratification and self indulgence, genuine warm hospitality stands out as a practical example of unselfish giving. - Brandon Towns, GM Windsor Asheville
Asheville, North Carolina (PRWEB) November 25, 2014
Visitors looking to be in the heart of Downtown Asheville while enjoying a unique and deluxe hotel stay, will choose the Windsor Boutique Hotel as their central destination. The Windsor features in-room massages, an art gallery, and many more amenities.
The Windsor Boutique Hotel frequently hosts art related events within their very own gallery. It features an art gallery unlike any other hotel. Local artists have contributed to this unique collection, and help contribute to the hotel's exclusive décor. Most of the artwork featured in the hotel is available for purchase.
Guests can remain in their rooms for massage treatments, given by professional massage therapists. Individual and couples massages are both available.
The suites are each unique in their interior design. Rooms range from chic black and white modern to homey rustic highlighted by exposed brick. Each luxury suite has unique features to fit guests needs. Rooms feature flat screen TVs, a high-tech audio intercom phone/security system, walk-in tubs and showers, living and dining room areas, washers and dryers, wireless internet, fully functioning kitchens, and deluxe linens. Handicap accessible and pet friendly rooms are also available.
One of the best features of the Windsor Boutique Hotel is its location. Visitors are within short walking distance to just about anything they may be interested in. The downtown location allows for visitors to walk right over to concerts at The Orange Peel and shows at the Asheville Community Theatre. Hiking trails, waterfalls, and other outdoor activities are just a short drive away.
ABOUT THE WINDSOR BOUTIQUE HOTEL:
Initially constructed in 1907, The Windsor recently completed an eighteen-month historic total renovation. The hotel features 14 brand new luxury suites, each with its own unique character and charm.
Over the course of the 20th century, the Windsor has been used for apartment homes and hotel rooms and as a storefront for groceries and paint supplies. In the 1960's, the Windsor was a station for low-cost housing in addition to being a residential hotel. Eventually this setup was too difficult to maintain and begged for a transformation of some kind. New management helped get the Windsor back on its feet and restored the former glory of the hotel. Many of the historical fixtures, such as the grand staircase and exposed brick walls, are still standing today.
The Windsor is anticipating the upcoming opening of their very own Italian restaurant, the Macchialina, located at 38 Broadway, sometime in early 2015. They are currently renovating the S&W Building as an additional location for guests and other events. http://www.windsorasheville.com 1-844-4-WINDSOR (1-844-494-6376)