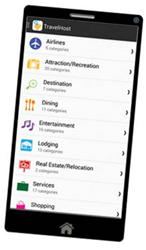 Irving, TX (PRWEB) November 24, 2014
TravelHost recently announced the launch of its new mobile app specifically designed for the traveler. TravelHost serves more than 100 million travelers annually, and this app is the mobile companion to the magazine found in thousands of destination hotel rooms throughout the country as well as online at http://www.TravelHost.com.
"The TravelHost mobile app is a superior tool that is designed to give the traveler a quick look at what is in their immediate vicinity," said Stacy Swopes, vice president of sales. "The app is specifically designed for travelers looking for unique ideas on where to eat, shop and play. The release of this app marks yet another milestone as TravelHost positions itself as the 'The Premier Destination Resource.'"
This latest release from TravelHost significantly raises the bar in travel-related apps providing 365/24/7 constant content. The TravelHost app lists the top 10 categories that travelers frequently utilize when pre-planning and/or planning their travel needs. The app pushes relevant information about participating local businesses in a variety of usable formats, ranging from detailed descriptions to photographs to links to the individual business's website. The app is easy to use and highly interactive, allowing a traveler the ability to make reservations and review/rate businesses. Additionally, travelers can search nationally and plan future trips by identifying their "favorites" including but not limited to: unique savings/deals, calendar of events and local articles.
"Our local publishers will significantly enhance the value of the TravelHost app as they actively engage 'travel friendly' businesses within their communities," said Joe Shocklee, executive director of network development. "The strength of TravelHost lies in the quality of local content and the attention to detail that each publisher will provide. No matter which communication vehicle is accessed along the way, in print, online or with the mobile app, when 'TravelHost recommends' a business, the traveler wins!"
Travelers can download a free version of the smart phone app for both Apple IOS and Android at the iTunes store or the Play Station store by searching for "TravelHost."
About TravelHost:
TravelHost serves more than 100 million travelers per year and is found nationally in hotel rooms, at TravelHost.com and on smart phone apps. TravelHost is the premier destination resource guide for travelers looking to make the most out of their stay. TravelHost guides travelers to the best local places for unique dining, exclusive shopping or unique entertainment venues and has been serving travelers for over 47 years. TravelHost is the most recognized and trusted resource for connecting consumers with businesses interested in welcoming both locals and travelers to enjoy the best in dining, shopping and entertainment services. Visit http://ipublish.travelhost.com/ for more information.