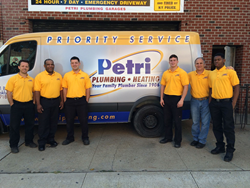 Brooklyn, NY (PRWEB) November 25, 2014
Petri Plumbing and Heating, Inc., Brooklyn's trusted plumber since 1906, is proud to have donated a portion of its earnings to fight Pediatric Cancer. During the month of September, the family owned and operated business participated in the Go Gold Bay Ridge Childhood Cancer Awareness month and now, the donations to the Memorial Sloan Kettering Cancer Center have been finalized and tallied. In total, $625 dollars was earned in just one month which will go towards Pediatric Cancer research.
"We couldn't be more proud to support local causes that help fight global problems," said Michael Petri, Owner of Petri Plumbing. "We have become Brooklyn's trusted plumbing and heating service providers for more than 100 years by not only paying attention to our work, but by paying attention to the greater needs of the community around us."
Earlier in the year, Brooklyn's Bay Ridge neighborhood banded together for Childhood Cancer Awareness Month and the #WorldGoGold campaign, which benefits Memorial Sloan Kettering Cancer Center. Slated as the leading cause of death by disease in children under the age of fifteen, the fight to cure and prevent pediatric cancer needs all the assistance it can get. Throughout September, Petri Plumbing's Service Experts wore Gold in awareness and donated a percentage of their repair tickets to the cause.
Founded in 1906, Petri Plumbing and Heating, Inc. have been devoted to providing the Brooklyn area the very best possible service, the most highly trained, professional staff, and the most environmentally friendly products available. Family owned and operated for four generations, the company provides New York residents, business owners, builders and more licensed, insured and Green Plumbers USA certified services in plumbing, heating, equipment installations, inspections and more.
To learn more about Petri Plumbing, call 718-748-1254 or visit: http://www.petriplumbing.com/
About the Petri Plumbing and Heating, Inc.
Petri Plumbing and Heating, Inc. is a family owned and operated business serving Brooklyn and the New York City area. Founded in 1906, the company offers a 100 percent guarantee on all services, upfront pricing, and friendly and knowledgeable Service Experts for all kinds of home and business plumbing and heating needs. Services offered include water and gas pipe leak repair and installation, fixture installations, inspections, boiler repair, water heater installation, complete bathroom, kitchen, laundry & utility room remodeling and more. Petri Plumbing is also licensed and certified by Green Plumbers USA - the first in New York City. For more information, please visit: http://www.petriplumbing.com/