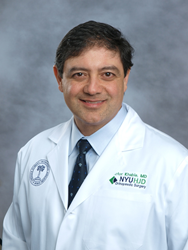 "Player safety must remain at the forefront of these highly competitive games, " stated Dr. Khabie
Westchester County, NY (PRWEB) November 25, 2014
Northern Westchester Hospital announced today that Victor Khabie, MD, Chief of Sports Medicine at Northern Westchester Hospital and team physician for the Newburgh Free Academy Football Team, will be on the sidelines to help ensure the safety of the players during the state championship football game on November 29th at the Carrier Dome in Syracuse, NY. In football, one can never underestimate the safety of players, so Dr. Khabie stands at the sidelines ready to administer immediate care if the need arises.
"Player safety must remain at the forefront of these highly competitive games. Playing for the state championship requires each member of the team to compete at their fullest potential. In games like these young players can over-commit themselves, which in some cases can result in serious injuries. Being on the sideline enables me to provide care when it matters most and help ensure the safety of our players. I am proud to be associated with this accomplished team and wish the Newburgh Free Academy Football Team all the best in their quest for the state championship," stated Dr. Khabie.
A 306-page, NFL-funded report* conducted by the Institute of Medicine and the National Research Council in 2013 found that football players have by far the highest rates of concussions for any sport at the high school level. Data from the report also showed that the average high school player is nearly twice as likely to suffer a brain injury as a college player. A panel of medical experts convened by the National Academy of Sciences analyzed a series of academic studies, with the most recent showing that college football players suffer concussions at a rate of 6.3 concussions per 10,000 "athletic exposures"—each exposure representing a practice or game. For high school football players, the comparable figure is 11.2 exposures*.
Having a Sports Medicine physician on the sideline and at the ready to provide immediate care is more important now than ever before. Dr. Victor Khabie received his medical degree from Harvard Medical School and is fellowship trained in sports medicine. He has served as assistant team physician to professional sports teams including the LA Lakers, Dodgers, Kings, Mighty Ducks, LA Sparks, and the USC Trojan football team. As a nationally ranked community hospital, Northern Westchester Hospital is pleased to lend support to Dr. Khabie and our area sports teams.
About Northern Westchester Hospital
Northern Westchester Hospital (NWH) provides quality, patient centered care that is close to home through a unique combination of medical expertise, leading edge technology, and a commitment to humanity. Over 700 highly skilled physicians, state-of-the-art technology and professional staff of caregivers are all in place to ensure that you and your family receive treatment in a caring, respectful and nurturing environment.
NWH has established extensive internal quality measurements that surpass the standards defined by the Centers for Medicare & Medicaid Services (CMS) and the Hospital Quality Alliance (HQA) National Hospital Quality Measures. Our high quality standards help to ensure that the treatment you receive at NWH is among the best in the nation. For more information, please visit http://www.nwhc.net and connect with us on Facebook.
*Reference:
Sports-Related Concussions in Youth: Improving the Science, Changing the Culture . Washington, DC: The National Academies Press, 2014 .
Contact:
Mark R. Vincent (914) 666.1200
Northern Westchester Hospital