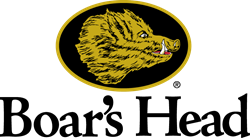 SARASOTA, Fla. (PRWEB) December 01, 2014
To provide inspiration for the holiday entertaining season, Boar's Head Brand®, one of the nation's leading providers of premium delicatessen foods, is launching its annual "12 Days of Giving" campaign. Beginning today, fans can visit http://www.boarshead.com/holidaygiving to view delectable recipes and enter to win daily culinary gifts.
"Boar's Head is built on tradition, and as a way of saying thank you for making 2014 so memorable, we're helping our fans celebrate the season and elevate their holiday entertaining by offering savory holiday recipes paired with superb culinary gifts," said Elizabeth Ward, director of communications for Boar's Head Brand. "Our annual '12 Days of Giving' allows us to share creative culinary ideas while giving back to our fans who enjoy our products year-round."
From workplace pot lucks to traditional family dinners and everything in between, the holidays are a time for bringing people together for great meals. To create delicious dishes that will leave partygoers abuzz, Boar's Head offers a few suggestions:

To learn more about the "12 Days of Giving" sweepstakes, including how to enter and suggestions for savory holiday recipes, visit boarshead.com, like us on Facebook or follow Boar's Head on Twitter, @Boars_Head.
About Boar's Head
Founded in 1905, Boar's Head Brand has upheld a commitment to unwavering standards for quality for over a century, refusing to take shortcuts that compromise the integrity of its products for the sake of convenience or economy. What started with just a few products has grown to over 500, ranging from premium delicatessen meats, cheeses and condiments to an array of Italian and Old World specialties, hummus and foodservice items. All Boar's Head meats, cheeses, spreads and condiments contain no fillers, by-products, artificial colors or flavors, gluten or trans fat. For more information, visit boarshead.com or http://www.facebook.com/boarshead.