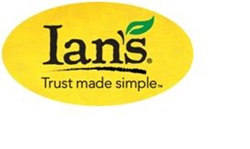 Boston/Framingham, MA (PRWEB) November 25, 2014
Ian's, the pioneer in allergy-friendly/gluten-free food solutions, is pleased to announce the launch of its new and improved website. Ian's focus on awareness and consumer needs is being enhanced with a sophisticated new website design that informs the growing population of people with food allergies and the challenges they face.
By implementing an educational basis behind the new website design, Ian's will be positioned as the go-to experts in the allergy-friendly food industry. According to Food Allergy Research & Education (FARE), "Food allergy is a serious medical condition affecting up to 15 million people in the United States, including 1 in 13 children. Whether you're newly diagnosed or brushing up on the facts, learning all you can about the disease is the key to staying safe and living well with food allergies."
Ian's is in the forefront to help everyone become more aware and comfortable with the foods they eat. The company strives to create delicious allergy-friendly, gluten-free foods that are convenient to make and easy to find.
Special tools that will be highlighted on the website include:

A registered dietitian forum that answers food allergen or general nutrition questions
Helpful "Food Allergy 101" facts and information, including a printable guide
Easy-to-use search capabilities for users to find the best foods based on intolerances or allergies
Information about all of Ian's products including gluten-free whole grain, organic, non-GMO options and other important ingredient facts
"Where to buy" section, plus a shopping cart for online purchasing
"At Ian's, we continue to improve our communication with our customers by making all information about our products available online," said Chuck Marble, CEO of Elevation Brands, parent company of Ian's. "By updating and refining our website, we are meeting our mission to provide the latest information that families with food allergies need to know."
Ian's is proud to include over 35 allergy-friendly/gluten-free foods in its family of products. The company also makes 11 non-GMO items, eight of them having Non-GMO Project approval. Ian's manufactures its food in its USDA facility in Framingham, MA, and every product must pass allergen tests by an independent third party and receive its stamp of approval. Ian's strives to avoid the top eight food allergens, which make up 90% of food allergies. Many of Ian's products boast no wheat, no gluten, no milk, no casein, no egg, no peanuts, no tree nuts and no soy.
For more about Ian's, please visit http://www.iansnaturalfoods.com. For interviews or product samples, please call the contacts listed at the end of this release.
ABOUT IAN'S NATURAL FOODS
Ian's is the pioneer of high-quality, allergy-friendly foods consumers can trust. Products are made on-site in Ian's Framingham, Mass., facility where allergy-friendly food safety practices exceed federally mandated standards. All products are laboratory-tested for allergens and the plant's equipment is cleaned and sanitized, following stringent food safety standards. Ian's allergy-friendly items are available nationwide at local natural and organic retailers and in the natural section of many grocery store chains or by direct purchase online at http://www.iansnaturalfoods.com.
MEDIA CONTACTS:
Alexandra Salazar
McFadden/Gavender
O: (520) 882-6262
M: (520) 820-9948
alexandra(at)mcfaddengavender(dot)com
Christina Thompson
McFadden/Gavender
O: (520) 882-6262
M: (623) 229-2597
christina(at)mcfaddengavender(dot)com
Website:
http://www.IansNaturalFoods.com