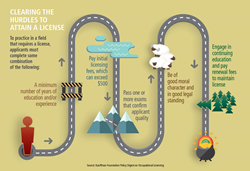 KANSAS CITY, Mo. (PRWEB) December 02, 2014
High rates of new business creation are the sign of a dynamic economy in which barriers to entrepreneurship are low. However, according to a new Entrepreneurship Policy Digest released today by the Kauffman Foundation, increasing licensing regulations in certain professions have the effect of building barriers to innovations and opening new businesses.
The Policy Digest states that nearly 29 percent of jobs now require a government-issued license, which is an increase from 40 years ago when just 10 percent were licensed. These requirements lead to a decreased supply of practitioners and reduce competition.
The Digest looks at different forms of occupational regulation, highlights the requirements to obtain a license, and offers recommendations to reduce barriers to entrepreneurship, including:

Replace licensing with a less onerous form of regulation where public health is not seriously threatened.
Reform licensing boards to give greater representation to non-licensed practitioners.
Create public committees to evaluate licensing boards, provide independent analysis of newly proposed licensure requirements, and make recommendations to lawmakers.
Establish mutual recognition of other state licenses to improve worker mobility and, thereby, boost economic dynamism.
The Kauffman Foundation's Policy Digests consist of summaries of findings around relevant policy issues that will inform and educate policymakers. To read the entire Policy Digest on occupational licensing and to sign up to receive subsequent Digests, go to http://www.kauffman.org/policydigest.
About the Kauffman Foundation
The Ewing Marion Kauffman Foundation is a private, nonpartisan foundation that aims to foster economic independence by advancing educational achievement and entrepreneurial success. Founded by late entrepreneur and philanthropist Ewing Marion Kauffman, the Foundation is based in Kansas City, Mo., and has approximately $2 billion in assets. For more information, visit http://www.kauffman.org, and follow the Foundation on http://www.twitter.com/kauffmanfdn and http://www.facebook.com/kauffmanfdn.