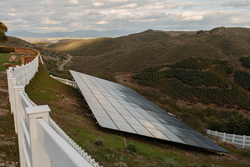 With the Holiday Promotion, homeowners can go solar without spending any money upfront and receive $1,000 cash-back for doing so.
Riverside, CA (PRWEB) November 24, 2014
All Inland Empire residents have until December 31, 2014, to sign up and receive $1,000 cash-back through Sullivan Solar Power's Thanksgiving Holiday Promotion. Regardless of whether someone leases, finances or purchases a solar power system with cash, Sullivan Solar Power will pay local residents to go solar if they sign up this year.
"The Inland Empire is in the optimal location to shine as a leader in solar technology," said Daniel Sullivan, founder and president of Sullivan Solar Power, "We are giving back to the community to support the territory by paying residents to go solar."
The Thanksgiving Holiday Promotion is intended to inspire the all of Riverside and San Bernardino County to go solar. Through the promotion, the average homeowner that goes solar is able to own their solar power system for no money out-of-pocket, replace a current electric bill of $250 with a much lower fixed payment of $149, and receive a Federal tax credit to the tune of $7,000. The icing on the cake is that participants who sign up during this limited time promotion are guaranteed $1,000 cash.
The solar power system does not need to be installed this year in order to participate, property owners simply must complete the necessary paperwork to reserve the funding. Sullivan Solar Power also offer the opportunity for property owners to finance solar power systems through property taxes without spending any money out-of-pocket and no credit score requirement. A number of residential solar power financing methods are offered to go solar with Sullivan. Regardless of which financing clients choose, all Inland Empire Residents are guaranteed a cash-back incentive with the Thanksgiving Holiday promotion.
"With the Holiday Promotion, homeowners can go solar without spending any money upfront and receive $1,000 cash-back for doing so," said Daniel Sullivan, "How is that for a stimulus plan?"
For additional information on the Holiday Promotion, call 1-800-SULLIVAN.
About Sullivan Solar Power
Sullivan Solar Power is a turnkey solar system provider that delivers solar electric projects from concept to completion. The company has installed over 27,000,000 watts of solar power ranging from small-scale residential to large-scale commercial and municipal systems. Sullivan Solar Power was founded by Dan Sullivan in 2004. Sullivan Solar Power has a longstanding A-plus rating with the Better Business Bureau, with no complaints filed since the business began. The firm has been named one of the fastest growing energy companies in the nation by Inc. Magazine and services all of Southern California. Regardless of project size and scope, Sullivan is committed to delivering the best products and the most qualified professionals to its customers. Visit sullivansolarpower.com for more information.
###