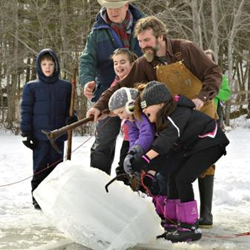 The best farm stays for families are naturally interactive engaging all ages in the rhythm of farm life.
Tampa, Florida (PRWEB) November 26, 2014
No two farm stay vacations will ever be the same, but all offer positive ways to engage in rural life, make discoveries and create memories. The best farm stays for families are naturally interactive, engaging all ages in the rhythm of farm life. From digging turnips in a winter garden and identifying tracks left in freshly fallen snow to gathering eggs and milking a goat, winter farm stays offer exceptional 3-G experiences.
"Staying on a farm reminds us of the seasonality of farming. Farmers don't harvest crops all year round (except maybe California!). There is a process of preparation and planning in the winter months, yet eggs will need to be collected; many farmers breed their livestock to drop their babies as early as February; cows and goats are often starting up their milk rotation again and some farms even offer opportunities for sleigh rides and snow shoeing," explains Scottie Jones, Executive Director of the U.S. Farm Stay Association.
To demonstrate the uniqueness and value of winter farm stay vacations theFamilyTravelFiles.com has just posted seven terrific locations each with its own 3-G experience waiting.
1. Inn at East Hill Farm near Troy, New Hampshire 3-G experience offers guests a chance to collect eggs to eat for breakfast, feed farm animals and milk cows.
2. Mountain Goat Lodge near Salida, Colorado 3-G experience includes a cheese making course allows participants learn how to milk a goat and make simple cheeses including Chevre, fresh Mozzarella, Feta, Paneer, or a Greek-style yogurt.
3. Full House Farm near Sebastopol, California 3-G experience includes a participatory farm tour with a chance to feed goats and chickens, collect eggs, and sample the farm's organic foods.
The balance of the list may be viewed from the homepage of theFamilyTravelFiles.com where you will also find more 3-G family vacation ideas and a rich variety of earth-friendly family vacation ideas.
For the latest family travel news follow The Family Travel Files on Twitter (@FamTravelFiles).
About theFamilyTravelFiles.com. Founded in 1998, theFamilyTravelFiles.com researches and posts the good stuff making it easier for parents or grandparents to plan great family vacations. The site features a number of vacation idea folders including popular favorites – Green Spots, All Inclusive, Reunions, SnowPlaces, and Spring Breaks.