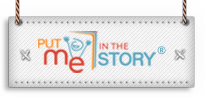 Sandra's whimsical illustrations have always inspired me. Her work is crafted from her heart, and sharing love—the love of reading, the love of a child—is at the core of what we do.--Dominique Raccah, CEO and publisher at Sourcebooks
Naperville, IL (PRWEB) November 25, 2014
Sandra Magsamen and Put Me In The Story, a leading personalized book website, are pleased to announce the creation of highly personalized children's book series featuring Magsamen's signature illustrations and unique, heartfelt rhymes. Using the innovative Put Me In The Story personalization platform, each child's name is imaginatively integrated throughout the text, making him/her the star of the story. Each book also includes a photo and a dedication page that allows parents to craft a special message.
"I am thrilled to be working with such a visionary publisher," says Magsamen. "Personalizing my books is such a natural extension and has been a dream of mine for years. I am thrilled to bring them into our readers' lives in this way with Dominique and her fabulous team."
"Sandra's whimsical illustrations have always inspired me," says Dominique Raccah, CEO and publisher at Sourcebooks. "Her work is crafted from her heart, and sharing love—the love of reading, the love of a child—is at the core of what we do. I'm overjoyed that Sandra will be joining Put Me In The Story."
With the addition of Sandra Magsamen, Put Me In The Story is launching a new line of personalized gifts for kids! Featuring bright, lively illustrations and memorable text from the most beloved children's books by Sandra Magsamen and others, Put Me In The Story now has personalized gifts such as canvas wall art, place mats, and puzzles.
The first Sandra Magsamen personalized children's books—Whooo Loves You? and Our Little Deer—are available now at PutMeInTheStory.com, priced at $24.99 each. Put Me In The Story will be adding new books & gifts by Sandra Magsamen in 2015.