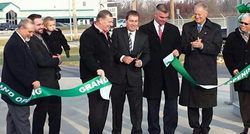 It's a great day for us and for natural gas
Indianapolis, Indiana (PRWEB) November 26, 2014
City and state officials along with local business icons gathered at the grand opening of CNG Source's newest fueling station on November 20th to promote the importance of natural gas to the economy and transportation development. Indiana State Representative Randy Frye spoke about various initiatives being sponsored at the state and district levels. These range from tax credits to proposed bills. Frye has been an ardent and unwavering supporter of natural gas as a replacement for petroleum-based vehicle fuel for many years, sponsoring a number of key bills that have made their way through the Indiana General Assembly and into Indiana law.
"We are thrilled about the momentum that's gathering for natural gas," said Doug Lubs, President of CNG Source. "It is truly a viable alternative fuel."
Also in attendance and advancing the cause was Indianapolis' Mayor Ballard. He stressed the growing need for supporting natural gas as an alternative fuel that is made in America and can generate jobs, contribute to cleaner air and, most importantly, promote financial independence from foreign oil—which he intimated was particularly critical in the current global geopolitical climate.
The new station, owned and operated by CNG Source, is evidence of the many advancements the company has spearheaded. Lubs cheered his staff and pointed at the quick progress they've made since he installed the first private CNG station in 1991. Other staff expressed deep satisfaction and pride about contributing to foreign oil independence as well as creating new jobs and reducing air contamination.
"It's a great day for us and for natural gas," said Lubs.
ABOUT CNG SOURCE
A veteran company based in Indianapolis, CNG Source develops and manufactures game-changing CNG equipment, as well as maximizes solutions for CNG station builders and commercial fleets. Offerings range from time-fill posts and CNG dispensers to complete fueling solutions in-a-box. CNG Source also leads the industry in specialized CNG engineering and R&D services. Turnkey solutions for commercial fleets are purposely designed to evolve and grow along with expanding businesses. CNG Source, led by Purdue University mechanical engineer Doug Lubs, harnesses decades of experience to ensure future success.
For media inquiries, please contact Karim Bousfiha – PR(at)cngsource(dot)com – Tel: 1 844 FUEL CNG