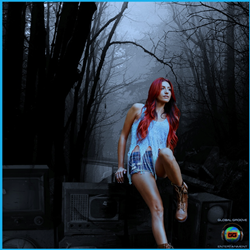 Gia is powering up the Billboard Dance/Club charts with a ranking of #18
New York, NY (PRWEB) December 17, 2014
With the release of her new single "World" Gia continues to prove that she is the new pop star to look out for. With her last single "Bombs Away" placing #4 on Billboard's Dance Club Charts, #1 in DJ Times Magazine, and charting as the #41 Billboard Song of the Year on the Year-End 2014 Dance Club Chart, Gia gained the respect of artists and producers around the world. The song was broadcast worldwide with remixes by some of the top DJs in the industry, including Sandro Silva, D.O.D, and Mike Rizzo. "Bombs Away" was also performed at several music festivals by world renowned DJ Fedde le Grand.
Since the release of her newest single "World" in late October, Gia has dominated the charts with the song moving from #41 to #14 in just two months. Gia worked closely with DJ Mike Rizzo of Global Groove Entertainment to release "Bombs Away" and more recently in the production of her latest single. For "World" Mr. Rizzo and Global Groove Entertainment collaborated with a vast group of talented DJs and remixers including Erick Morillo, Dave Aude, BPM's Stone Bridge, Funk Generation (DJ Mike Rizzo), Mike Cruz, and the legendary DJ Skribble.
In order for her fans to delve deeper into the meaning and feeling behind the song, the starlet released a music video, where she combined her talents of music, dance, and acting. The video for "World," shot by Monstar Productions in both a studio and in a desert, was an incredible collaboration ultimately representing the vision of this dynamic artist.
"Everyone who helped me with this project was so great. It was like a family on set and we had an amazing time," Gia said. "I was truly touched by the commitment of my entire team! It looks really good!"
The music video for Gia's hit single "World" can be viewed here.
Gia says the message behind the song has a broad interpretation and can affect many people in different ways.
"It can have alternate meanings. Certain things may have happened in your life that did not happen to someone else, and so depending on everyone's experiences, 'World' can be interpreted differently," Gia said. "For instance, a relationship falling apart or a home falling apart, and then working together to pick up the pieces. More personally, to me it was based on a horrific hurricane in my hometown that destroyed so many lives in various ways. I witnessed the struggles of friends and family after Hurricane Sandy, but I was also inspired, watching people help each other to rebuild their lives. It was a very intense and heartbreaking road to recovery for everyone, but people picked up 'the pieces' with help from each other. This inspired the lyrics of 'World.'"
To check out Gia's latest single "World" and exclusive remixes from world-renowned artists, click here.
About Gia
Native New Yorker Gia is a dynamic artist specializing in Electronic Dance Music. Along with music, Gia also has a background in dance and acting. She has performed at several venues and music festivals, including Harrah's Pool After Dark, Pacha NYC, and KTUphoria. She has also opened for some of the highest chart-topping artists in the industry such as Icona Pop, Ariana Grande and J.Lo.