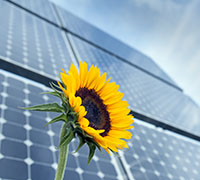 The Earth Needs This as Much as Consumers' Pockets Do
(PRWEB) November 25, 2014
Traditional annual rate increases and a constant struggle of deciding between whether to suffer and pay them or switch to a renewable source of energy is nothing new to California homeowners. Weighing the two options between paying extra on fossil fuels or switching to a new clean energy system all together just got a lot easier. A recent energy saving tips sheet was released by a leading solar company. The expert tip sheet offers different ways to save on utility costs and be more energy efficient. Techniques involving more careful monitoring and use of current utilities and even tips on how to get started with solar energy production for low costs. The tip sheet goes hand in hand with reports done by Mckinsey and Company which projects a 40% drop in overall solar costs by 2015. The tip sheet especially accommodates homeowners seeking energy saving tactics after recent approvals were passed by the California for yet another utility rate hike on a third of all California homeowners.
The recent rate hike approval will allow one of the biggest California utility companies, PG&E to raise rates in 2015 as well as in 2016. The California Public Utilities Commission, or CPUC approved this rate increase and explained, "The decision approved attrition increases of 4.57 percent for 2015 and 5 percent for 2016." Keeping this increase in mind, there is the research article published by Mckinsey and Company that projected a drop in PV module pricing for 2015 through 2020. The article explains, "The cost of a typical commercial system could fall 40 percent by 2015 and an additional 30 percent by 2020."
Inspired solar experts at PSP made a tip sheet for the general public to be able to read and save energy no matter what type of energy they use according to the current market figures. James from PSP explains, "After examining both reports; one of a projected drop in solar module pricing, and another on an expected rise in utility rates, we decided to make an energy saving tips sheet to cater to all consumers needing to save on energy." The tip sheet includes expert strategies for those using traditional power sources who will be forced to save after experiencing the expected rate increase in 2015 and 2016. It also explains how easy and affordable it is to make the switch to using solar panels system. The energy saving tips do not only apply for PG&E consumers. Anyone in the country who uses electricity can benefit from this tip sheet. The earth needs this as much as consumers' pockets do, in order to reduce the amount of fossil fuels burned and minimize global warming.