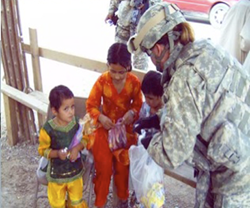 Being able to help out like this means as much to me as it does to them.
San Luis Obispo, California (PRWEB) December 01, 2014
In honor of Veterans Day, last month the digital color printing company DocuCopies.com donated $2,000 to TroopCarePacks.org, a local grassroots campaign run by Si Tenenberg, a retired Marine, of San Luis Obispo, Calif.
While the United States draws down its number of troops in Afghanistan , this also detracts from the availability of private contractors to get necessary supplies to troops deep in the field, according to the website. This is also the case in other places where troops are deployed, as various conditions as well as the physical remoteness of some outposts can makes supply transport dangerous and difficult.
"Not only are we supporting the combat troops and bomb sniffing K9 teams, but have significantly increased humanitarian packages for the children living in the local villages," the website states. "School supplies, clothes, and other badly needed items are included, and emails from our men and women in arms describe how this approach to winning the hearts and minds of the local villagers helps get our troops home quicker."
DocuCopies.com's President and CEO, David Pressley, is a veteran of the US Army 101st Airborne and heard about this drive from local television station KSBY. On Veterans Day, Pressley and his granddaughter drove to the station to deliver a check for $2,000 in person.
"Despite our country's sizable defense budget, deployed troops often need more basic essentials than they can get," said Pressley. "Being able to help out like this means as much to me as it does to them."
DocuCopies.com recently spoke with Tenenberg, who confirmed that the company's donation was indeed spent primarily on new boots. But in an unexpected twist, the boots are being sent not to Afghanistan but to recently deployed troops in Liberia from Pressley's own 101st Airborne Division, otherwise known as the "Screaming Eagles."
For more information on the organization, visit them at TroopCarePacks.org. For more information on DocuCopies.com, their digital printing services and their philanthropic efforts, visit them at http://www.Docucopies.com.