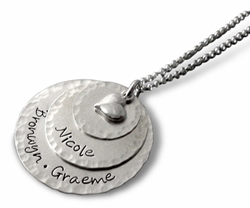 This year, customers can type the promo code "MERRY" and take advantage of an early 15% discount.
El Segundo, CA (PRWEB) November 25, 2014
Early Christmas shoppers and gift planners can get the jump on their Christmas list with personalized Christmas gifts at 15% off from Bliss Living. Online shoppers need only enter the promo code to recieve the discount. From jewelry pieces to designer diaper bags, find unique holiday gifts for mom or friends who have started on the journey of motherhood.
Since its launch in 2004, Bliss Living has been offering classic yet stylish, quality personalized products for mothers. Celebrity moms such as Angelina Jolie, Heidi Klum, and Jennifer Lopez have been spotted carrying the store's famous designer diaper bags. Aside from hand-crafted, made-to-order jewelry for moms, the store also caters to customized Christmas holiday gifts for fathers, siblings, grandparents, and newborns.
This year, customers can type the promo code "MERRY" and take advantage of an early 15% discount.
To help ease the stress of the holidays, the store has provided shoppers a holiday gift guide on their website, which includes a list of Top 10 Most Popular Gifts and items from their store that can be turned into personalized Christmas gifts. Celebrate the season early with Bliss Living and give intimate and meaningful personalized holiday gifts this year.
For contact details and more information about Bliss Living's three hour flash sale, visit http://www.BlissLiving.com or contact 310-645-0073.
About Bliss Living:
Bliss Living was launched in 2004 with the mission of giving meaningful gifts for mothers everywhere. Recognized by national media outlets as one of the best places to shop for loved ones, the store offers a broad selection of personalized Christmas gifts, from designer diaper bags that have caught the attention of famous celebrity mothers to hand-crafted jewelry that all mothers will enjoy. For more information, please visit http://www.BlissLiving.com.