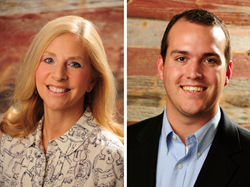 "Barbara and Ryan's expertise of the research and decision-making process of prospective graduate students will help Converge provide even more comprehensive support to business schools across the country," Ann Oleson, CEO
Cedar Rapids, IA (PRWEB) November 25, 2014
Converge Consulting has announced the addition of two new team members with expertise in business program recruitment and marketing.
Barbara Coward joins Converge as Vice President of Innovation and Strategy. Barbara, an MBA alumna, comes to Converge with incredible graduate school experience. Barbara was formerly an admissions officer and marketer for accredited and internationally ranked business schools in both the U.S. and Europe. During that time she helped increase student enrollment by the largest percentage in the history of a full-time MBA program and was an instrumental leader of a team that achieved the inaugural Financial Times global EMBA ranking.
Before joining Converge, Barbara founded a specialized business school marketing consulting firm with engagements ranged from content development for lead nurturing campaigns, social media, information session presentations as well as producing strategic plans. Barbara developed marketing strategies to successfully launch a new EMBA program and exceeded enrollment targets for two consecutive years for a hybrid EMBA program.
Barbara is a regular speaker at higher education marketing conferences including the Global EMBA Council Conference, the GMAC Leadership Conference, the EFMD Conference for International & External Relations, Marketing, PR, Communication and Alumni Professionals and Converge 2014.
Ryan Lindsay joins Converge as Digital Strategist. Ryan is a graduate of the University of Iowa's Henry B. Tippie School of Management Master of Business Administration, Marketing program. During his time at Tippie, Ryan served as Vice President of Events for the MBA Marketing Association and was a Graduate Teaching Assistant with Teaching Roles in Introduction to Marketing Strategy with support roles in Marketing Management, Direct Marketing Strategies, and Marketing and Sustainability.
Ryan was a member of the Google Grants consulting team for the Peggy Notebaert Nature Museum in Chicago. He also served as a member of the consulting team for Brownells, Inc. as part of a product category launch. Additionally, Ryan managed the digital marketing team for Tutor Universe, Inc. and led the development of the company's first premium product.
"The competition among MBA programs is thick. We know that programs need to be on their A-game to recruit the top prospects," said Ann Oleson, CEO. "Barbara and Ryan's expertise of the research and decision-making process of prospective graduate students will help Converge provide even more comprehensive support to business schools across the country."
Barbara and Ryan are both major contributors to Converge Consulting's New & Next Blog, the video series Friday After Class, as well as webinars, eBooks and other collateral.
Converge Consulting is a higher education marketing firm with offices in Cedar Rapids, Iowa and Manhattan Beach, California. Converge uses research, web analytics, inbound marketing, and strategic communications to positively impact student recruitment and alumni engagement for colleges and universities around the world.