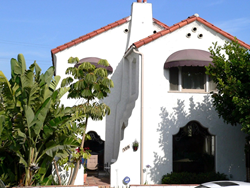 "Satori house was monumental in my recovery process. I had tremendous support from my recovery coaches."
Long Beach, CA (PRWEB) December 09, 2014
Satori House, named after the Japanese word for "sudden enlightenment," is offering a one-month scholarship for this important level of care. Rachel Levi, Founder and Executive Director of Shoreline Center for Eating Disorder Treatment (Shoreline) proposes, "We understand the difficult challenges families face during this economical time, and so we would like to extend a one-month scholarship to Satori House to support a family in need."
Shoreline is offering a scholarship to Satori House located in the Belmont Shores area of Long Beach, California, only one block from the ocean. The house is a non-clinical residence for those working towards recovery from all forms of eating disorders. It provides a safe and nurturing place where residents experience daily life and how to face challenges, while gaining support in a recovery-based home environment. At Satori House residents learn life skills, how to transition gently into independent living and the ability to flourish on their own - free from eating disorder behavior. There is an on-site resident assistant who offers compassionate and supportive guidance and accountability along the way.
Having Satori House for transitional living as an option can greatly reduce the chance of relapse, a real problem for those in early recovery or transitioning from higher levels of care.
A former Satori House resident suggested, "Satori house was monumental in my recovery process. I had tremendous support from my recovery coaches. It allowed me to live and work and go to school, but with the support and accountability of the staff. What makes the Satori House unique is that we're not separated from the world. We can face our triggers with the help and support of trained staff."
Residents of Satori House are women 18 years and older who are either referred upon discharge from residential or inpatient care, or recognize that their current living situation does not offer the level of support needed to stay on the road to recovery and participate in life. The length of stay is dependent on the need of the individual and reviewed on a case-by-case basis – typically ranging from as little as a month to over a year.
The scholarship will be given to a participant that meets the criteria of entering Satori House. The scholarship works in conjunction with PHP, which participants must have coverage for. For more details on the scholarship opportunity at Satori House. please contact Christina Weiss, Clinical Outreach, christinaweiss(at)shoreline-eatingdisorders(dot)com