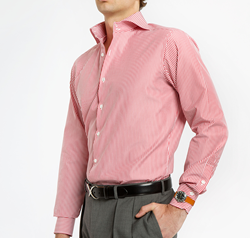 It's the shirt
New York, NY (PRWEB) November 26, 2014
Sebastian Ward, NYC based creator of a re-imagined, locally produced, ready-to-wear men's dress shirt, is pleased to announce the grand opening of their first retail presence at Elevee Fine Clothing's New York store at 8 W 38th st off of Fifth Avenue in New York City. A launch party will be held on December 3, 2014 at 7pm.
Sebastian Ward's shirts, including innovations such as a high collar stand to frame the face, longer sleeves to enable greater mobility and a longer tail to ensure an all-day-tuck, have been available online since July and will now be available in store right off of Fifth Avenue in New York City. As Sebastian Ward's first product, the dress shirts exemplify a commitment to creating elegant yet functional clothing that lets the wearer be confident and get on with their lives.
"The shirts we had encountered were either too tight-fitting which caused it to be too restricting to movement, too short at the tail which caused them to come un-tucked easily, or the collars were flimsy which caused them to collapse and be less impressive. " says Creative Director Christopher Berry of his inspiration for the innovative design of Sebastian Ward's NYC designed and made in USA dress shirts.
"I have shirts from Zegna, Cucinelli, Tom Ford, etc, and this honestly might be my favourite of the bunch." wrote a member of StyleForum, the premier online menswear forum after purchasing a shirt. Another satisfied customer, @mmalisani, tweeted "few people get the true importance of the idea that if you're going to do something, you have to do it right. @SebastianWardNY gets it!"
Sebastian Ward's dress shirts are designed in NYC, produced in Newark, NJ by Mel Gambert Shirts, the same company that produced Michael Douglas's shirts in the original Wall Street film. The shirts are made of Thomas Mason 100% cotton from Italy with custom designed Australian Mother of Pearl Buttons and interlining from Wendler in Germany.
Sebastian Ward dress shirts are currently available online at http://www.sebastianward.com and will be available at Elevee Fine Clothing's New York store at 8 W 38th st starting on November 15, 2014. On December 3, 2014 at 7pm Sebastian Ward will host a launch event in the retail location featuring an open bar, a chance to meet the core Sebastian Ward team and a live violinist performing in a Sebastian Ward shirt to demonstrate its flexibility.
About Sebastian Ward
Sebastian Ward is a NYC based fashion company that specializes in re-imagining traditional Victorian clothing style to compliment the simple minimalistic lifestyle of the modern urban professional.
Sebastian Ward's first product is a men's dress shirt designed to provide a modern Victorian elegance with superior mobility and durability.