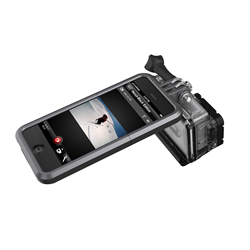 "All of our GoPro accessories are purpose-built to solve the most common issues we face as avid GoPro shooters ourselves," said Jeff Overall, CEO of Polar Pro Filters.
Newport Beach, C.A. (PRWEB) December 01, 2014
Today, Polar Pro Filters, a manufacturer of professional-grade GoPro® accessories for the action sports, outdoor and diving communities, announced the immediate retail availability of two new, recently-crowdfunded, additions to its accessories lineup. Following a recent Kickstarter campaign, which realized 145% of its initial funding goal, Polar Pro is now shipping its PowerPole battery-integrated extension pole and Proview smartphone mounts.
While Polar Pro Filters got its start manufacturing high-quality snap on lenses and filters for GoPro cameras, the company now offers a series of filters for GoPro Hero3, Hero3+, and the new HERO 4 models. Its namesake filters are sold individually or in use-specific packages including its Above Water Pack (with neutral density and polarizer filters, and accessory macro lens) as well as its Underwater Pack (with red and magenta filters for underwater color correction, and a polarizer for glare reduction).
With the completion of its successful Kickstarter campaign, Polar Pro has now added two new accessories to its growing lineup, including:

Polar Pro PowerPole: The first battery-integrated GoPro extension pole, PowerPole's durable yet light-weight all-aluminum alloy construction extends from 17-30 inches to get users closer to the action to find new shooting perspectives. The PowerPole's internal 5200mAh Lithium batteries offer a huge advancement over the camera's notoriously short battery life by enabling up to 10 hours of filming on a single charge. Additionally, the PowerPole's dual USB ports (with splash proof guards) can take on additional accessories or charge up USB-powered devices at the end of a long day of shooting. The PowerPole is available for $129.99 (direct) and ships immediately.
Polar Pro Proview: A dual-purpose protective case and GoPro mount for current generation smartphones, the Proview not only helps stabilize hand-held filming but positions the GoPro app right at the user's fingertips allowing them to easily frame shots and access the app-based touch screen camera controls. When not shooting videos, the Proview also includes with a second mount-free top section to easily morph into a sleek traditional phone case for everyday use. Polar Pro is to continuing to expand Proview compatibility but currently offers models to accommodate iPhone 5/5s/6 & Samsung Galaxy 5s. The Proview is available for $29.99 (direct) and ships immediately.
"All of our GoPro accessories are purpose-built to solve the most common issues we face as avid GoPro shooters ourselves," said Jeff Overall, CEO of Polar Pro Filters. "While the company got its start focused on color-correction and polarizing filters, we've continued to develop new and novel solutions to the issues faced by everyone looking to capture their adventures."
For more information on the entire Polar Pro Filters product line up, and to order the PowerPole, Proview or any other of the company's diverse range of GoPro accessories, please visit: http://polarprofilters.com/
About Polar Pro Filters
Polar Pro is a leading manufacturer of GoPro® accessories and mounts designed to improve the GoPro® filming experience. Founded in 2011 at the University of California, Santa Barbara (UCSB) with the creation of its first small, polarized filter, Polar Pro has experienced explosive growth and now distributes its solutions to more than 500 locations worldwide. With a dynamic team of young and innovative employees, Polar Pro continues to find new ways to improve the filming process. For more information on Polar Pro visit http://polarprofilters.com, or follow the brand on Facebook, Instagram, Twitter, and YouTube.
###
Media Contact:
Zach Heath
zach(at)engagecoms(dot)com
(401) 559-7350