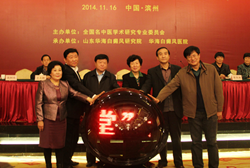 Start the public welfare activities
(PRWEB) December 01, 2014
On November 16th, a ceremony was held for Huahai Vitiligo Hospital to formally be authenticated by the Chinese Government as a top vitiligo specialist. Included among the officials who presented was Wu gang, deputy director of China's state administration of traditional Chinese medicine, and department chief priest Xu Zhiren. This is the first time that the vitiligo illness has been included in traditional Chinese medicine. Huahai Vitiligo Hospital is known for its first class service and solid scientific research. Soon vitiligo patients from all over the world can come to Huahai Vitiligo Hospital to get the best service, scientific, and effective treatment.
Currently, the Chinese government manages medical institutions with the hospital evaluation system, which receives the strictest management. To take part in the review, participants must be in the country and region; have a scale, research, and development abilities; the core technology; and be a reputable hospital. Before being approved, government experts inspect all aspects of the organization including medical service and management, quality and safety, technical level, and efficiency of the comprehensive system.
Huahai Vitiligo Hospital's research team has proposed a new theory for the diagnosis and treatment of vitiligo entitled, "Black and White Cured Together." Through the use of their new controlled technology, they can eliminate cause and development of the disease; balance Yin and Yang to regulate the immune system; activate cells to promote regeneration; and perform a two-way adjustment - black, white, and beautiful. This technology has cured patients in 116 countries.
About Huahai Vitiligo Hospital
Huahai Vitiligo Hospital has specialized in the treatment of vitiligo for 20 years. They have the largest vitiligo research laboratory and preparation center in China and have taken China's National Ministry of Science and Technology to new heights regarding researching vitiligo. They have obtained more than 20 national patents and the protection of non-material cultural heritage. They have performed research of vitiligo therapeutic treatments and 13 medical monographs. In addition they have been published in Vitiligo Thoughts as well as more than 300 academic journals both at home and abroad.