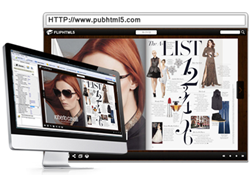 PUB HTML5 is a perfect solution for new product announcements and promotions.
(PRWEB) November 26, 2014
PubHTML5.com, the leading provider of HTMl5 flipbook software that specializes in converting printed material into digital presentations, today has revealed a new flipbook demo about iPad Air 2 to show companies creative ways of using its product. The Hong Kong based company that leads the market of digital publishing technology now introduces creative functions of online flipbook software through the recent demo.
In the demo, PUB HTML5 shows companies how appealing flipbook presentations can really be. The software helps to showcase a product launched by Apply creatively. The page turning feature makes the presentation alive with video integration. The end results are phenomenal. With the help of the new technology, PUB HTML5 is able to help companies save costs by focusing on creative ways to publish digital books and presentation. PUB HTML5 is a perfect solution for new product announcements and promotions.
The presentations can be made even more appealing by adding audio commentary, video introduction, photo slideshow, and even order button for the product to be purchased by the viewer directly. But that is not all, PUB HTML5 ensures that flibook presentations are accessible on all devices including mobile phones. Now a company presentation can be showcased anywhere anytime with the help of a Smartphone.
To find out more information about PUB HTML5 or its products, visit their website at here.
About
PUB HTML5 is a premium provider of digital publishing software based on HTML5 coding language. It specializes in converting of any printed material into digital publications such as ebooks and digital magazines. The company has been helping companies from around the world save costs by focusing their attention on beautifully designed digital publications with a lot of great features.