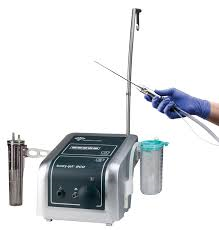 The body-jet eco performed flawlessly as expected and we feel it meets our tough standards. -- Dr. Todd Malan, Chief Therapy Officer & General Surgeon at Okyanos
Freeport, Grand Bahama (PRWEB) November 25, 2014
Okyanos, the leader in cell therapy, announced the adoption of body-jet eco for use in the harvesting of adult stem cells for use in cell therapy. The Okyanos procedure begins with the extraction of a small amount of body fat, a process done using advanced water-jet assisted liposuction technology. The body-jet® eco system is utilized during this procedure and allows a larger number of viable adult stem cells to be harvested. After separating the cells from fat tissue, the Okyanos medical doctor immediately injects these cells into and around the area needing treatment allowing targeting of the cells to repair damaged tissue.
According to Dr. Todd Malan, Chief Cell Therapy Officer and General Surgeon at Okyanos, who was involved in helping develop the appropriate settings of the body-jet eco use in adult stem cell harvesting, "The body-jet eco was used during our first stem cell procedure at Okyanos. It performed flawlessly as expected and we feel it meets our tough standards. This is much gentler and more precise, making the overall procedure faster with less trauma to the surrounding tissue and less diversion of the adult stem cells from the intended area."
The body-jet eco is part of the water-jet assisted liposuction (WAL) family of devices, which detaches the fat gently from the tissue structure using a flat, fan-shaped water jet spray. The surrounding connective tissue, nerves and blood vessels remain in-tact which makes this procedure much gentler on the patient and leads to a quicker recovery with less pain medication required. The WAL process has a very high viability of fat cells and stem cells with a high take rate after fat grafting. The WAL family of devices is manufactured by human med AG with its headquarters in Schwerin, Germany, and distributed in North America by CAREstream America with its headquarters in Altamonte Springs, Florida.
Because the treatment is minimally invasive it requires that patients be under only moderate sedation. Post-procedural recovery consists of rest in a private suite for several hours that comfortably accommodates up to 3 family members.
Patients can contact Okyanos at http://www.okyanos.com or by calling toll free at 1-855-659-2667.
About CAREstream America:
CAREstream America began in 2013 and is a division of CAREstream Medical Ltd, which has serviced Canadian customers' respiratory and anesthesia needs for over 15 years. CAREstream America retains North American distribution rights to the full water-jet assisted human med AG product line. CAREstream America is the premier distributor of Aesthetic product lines ranging from water-jet assisted technology to vascular access imaging to nitrous oxide analgesia which help shape the body, showcase the veins and relieve the pain and anxiety of aesthetic procedures.
About Dr. Malan:
Todd Malan, MD, serves as the Chief Cell Therapy Officer and General Surgeon at Okyanos Heart Institute, overseeing the liposuction and stem cell isolation step of the Okyanos cardiac cell therapy process. Known as an innovative cosmetic surgeon, Dr. Malan's practices combine the most progressive and minimally-traumatic liposuction technologies available. A pioneer of fat-derived stem cell therapies, he became the first physician in the US to utilize stem cells from fat for soft tissue reconstruction in October, 2009, combining water-assisted liposuction, fat transfer and adult stem cell technologies.
About Okyanos: (Oh – key – AH – nos)
Based in Freeport, Grand Bahama, Okyanos brings a new standard of care and a better quality of life to patients with coronary artery disease, tissue ischemia, autoimmune diseases, and other chronic neurological and orthopedic conditions. Okyanos Cell Therapy utilizes a unique blend of stem and regenerative cells derived from patients' own adipose (fat) tissue which helps improve blood flow, moderate destructive immune response and prevent further cell death. Okyanos is fully licensed under the Bahamas Stem Cell Therapy and Research Act and adheres to U.S. surgical center standards. The literary name Okyanos, the Greek god of the river Okyanos, symbolizes restoration of blood flow.