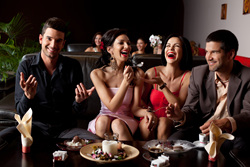 Twangle, Inc. and all of its proud twanglers wish everyone a safe and Happy Twanksgiving.
Los Angeles, CA (PRWEB) November 25, 2014
With a dedicated team of professionals, led by renowned dating consultant and life coach David Crowther, Twangle.com is the newest and most exciting way to meet people online. It is also the first of its kind to offer a dynamic online dating platform and expert consultants available to those who could use some guidance or reassurance. This Thanksgiving will be extra special for the Twangle team, better known as Twanglers, because their hard work and dedication will be fulfilled with the launch of this exciting new online dating site this holiday season.
"We are very thankful to our amazing staff, clients, new members and friends for making this unique and fun site a reality," announced Edward Brik, President of Twangle, Inc. To thank everyone and to help bring more people together this holiday season, Twangle will be offering free profiles for new members to join this fun and dynamic online dating experience throughout the holidays. Just visit the site, http://www.Twangle.com, and fill out the short form to sign up for the profile. This amazing offer will only be available until January 2015.
More than 1 in 10 American adults visited dating sites last year, and with Twangle, people can now get dating tips and advice they need, as well as meet the right people. Twanglers firmly believe that it takes two to Twangle and that's why their site is full of various ways to meet interesting and interested people. With the help of their dating consultants members can find their perfect match, so that the holidays could be a little less lonely and a lot jollier.
Twangle, Inc. and all of its proud twanglers wish everyone a safe and Happy Twanksgiving.
To find out more about its services, and to become a member of the coolest online dating site free, for a limited time, please visit Twangle.com.
About Twangle
Twangle.com is a trusted online dating site for men and women seeking friendship, dating and relationships. Twangle offers a dynamic platform full of various ways to meet interesting and interested singles. And Twangle is the only online dating service to offer members professional advice from executive dating consultants. Twangle is the ideal online destination for singles who are seeking their perfect match. "It takes 2 to Twangle."