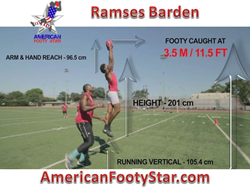 I definitely believe there is a place for me in Australian Footy based on my athleticism, wide receiver skill sets, and my NFL experience," said Barden.
Los Angeles, CA (PRWEB) November 25, 2014
American Footy Star (AFS) is gearing up to present its own class of the best and brightest young talent as available AFL player candidates ahead of the 2014 Australian Football League (AFL) Draft on Nov. 27 at http://www.americanfootystar.com. These top-choice candidates will be revealed on Thanksgiving Day in the USA for future recruitment consideration of the 18 AFL pro teams, such as the Collingwood Magpies, who have in recent years shown interest in American talent.
AFS is a pioneering, multi-faceted project designed to be a groundbreaking new international talent pathway between the U.S. and Australia. The project utilizes and accesses the abundance of American athletic talent to emerge from the world-famous National Collegiate Athletic Association (NCAA). AFS is also positioned as a groundbreaking new online sports agency spearheaded by footy sensation Miro Gladovic, which offers athletic scouting, management, and consultancy in the professional sports arena. Furthermore, AFS has been created to be a content provider for web and TV platforms, chronicling, and promoting the sporting challenges and journeys of its athletes via dramatic docu-series, and in turn also promoting its American athletes, as well as Australian Footy to the U.S. market, and internationally.
The AFS Class of 2014 will be launched online showcasing the draft candidates' incredible Footy performances, as well as game highlights on Nov. 27. The group of players features a mix of NFL and NCAA football players, including former New York Giants wide receiver and Superbowl champion Ramses Barden, and former Washington State / Pac-12 running back Carl Winston.
"I definitely believe there is a place for me in Australian Footy based on my athleticism, wide receiver skill sets, and my NFL experience," said Barden.
AFS was created and founded by Gladovic, an Australian sports agent and former Fédération Internationale de Football Association (FIFA) Players' Agent.
FOUNDER
AFS was created and founded by Australian sports agent Miro Gladovic. Miro was one of Australia's original "Jerry Maguire" sports agents, who became the youngest accredited FIFA Players' Agent in the world at the time of his accreditation in 1997.
Miro played a pivotal role in establishing Australia's successful and lucrative soccer talent pathway to the European soccer leagues such as the English Premier League, building and guiding the careers of some of the world's top soccer players.
AFS SPORTS AGENCY
AFS is creating a pioneering new sporting infrastructure, bridging the gap between different sports and connecting athletes with professional teams internationally. Starting Thanksgiving Day, AFS offers professional sports teams in Australia and internationally the opportunity to scout elite American athletic talent at the click of their mouse pad, half a world away. AFS also offers the opportunity for American athletes to upload their videos showcasing their talent and abilities. Plans are also underway to expand into other sports, including rugby and soccer, as well as sourcing future NFL players from Australia and internationally.
CONTENT AND MARKETING PROVIDER
AFS was originally conceived as an innovative new TV project, designed to promote Footy in the United States and internationally via an "American Idol" type of talent recruitment, searching for the first American athletes to go to Australia and crossover and conquer Australian Footy.
With the emergence of the inaugural Class of 2014 athletes, AFS has captured the entire cutting-edge process of recruiting its first American athletes who had never heard of Footy prior to being recruited by AFS on camera. This behind the scenes docu-series will reveal and showcase the compelling and inspirational process of the AFS Class of 2014 Footy converts.
Stay connected to American Footy Star and Sport Agent Miro Gladovic on Twitter @MiroGladovic, Instagram mirogladovic and Americanfootystar.
For interviews contact Yvette Morales with YM & Associates PR | Marketing | Branding at YMoralesY@YM-PR.com or 949-244-9769
Yvette Morales
YM & Associates
PR | Marketing | Branding | Business Development
California | New York
949.244.9769 | 310.499.0906 Fax
YMoralesY(at)YM-PR(dot)com
@YMTheBevHillsPR
YM-PR.com